Our selection committee begins reviewing application materials in September. An invitation to interview is extended only after we have received a complete application and eligibility criteria are met (listed below). On Fridays in October, we will extend interview invitations via email to approximately 40 applicants, and candidates will have until the following Monday morning to accept or decline an invitation to interview.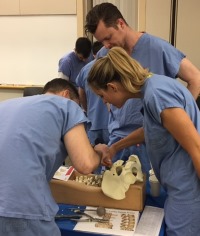 Sections
Interview Process
For interviews taking place for the 2023 match, we will hold three fully-virtual interview days which take place between November and January. Due to ongoing concerns related to the COVID-19 pandemic and the importance of equity for our candidates, all UW residency program interviews will take place virtually this cycle. Each candidate can expect a series of short, individual interviews with a variety of clinical and research faculty from our department. Each interviewer then rates applicants on a variety of criteria. Interview criteria includes interpersonal communication skills, clinical experience, research conducted and publications, alignment of research and clinical goals and interests with departmental opportunities, and aptitude for the six ACGME Core Competencies necessary for a practicing physician.
Development of the Rank List
A meeting of the residency interview committee, including both current residents and clinical/research faculty is held in January to develop a consensus of rank order. The Rank Order List will be certified by the end of January in preparation for candidates to visit in February if they would like to. This optional February visit is an opportunity for candidates to gather additional information to inform their institutional rank list. Choosing not to attend this optional visit will not affect an applicant's candidacy.
Eligibility Requirements
Medical students applying to the UW Department of Neurological Surgery residency program must have passed USMLE Step 2 CK and CS and graduated from medical school.
Criteria for interview eligibility:
Exceptional performance in all basic science courses

Exceptional performance in all required clerkships

Exceptional USMLE Step 1 score

Exceptional letters of recommendation
Applicants with unusual strengths who do not meet all the above criteria will be considered on an individual basis.
International Applicants
The Department of Neurological Surgery Residency Program requires that all international medical graduates must:
Be certified by the Educational Commission for Foreign Medical Graduates (ECFMG).

Have taken and passed the USMLE Step 1 and Step 2 exams.
The residency program will consider sponsorship for H-1B visas for international applicants and F-1 OPT applicants on an individual basis.
Positions Outside the Match
In the case of vacancies, residents may be interviewed at any time. The residency Program Director will decide whether to offer a position, or whether further review by the whole residency training committee is indicated after the interview. Open positions will be listed on this website. There are currently no vacancies.