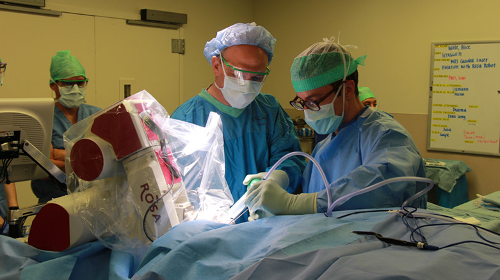 Sections
What areas of neurological surgery are your faculty experts in?
The Department's clinical practice and faculty expertise is centered on the following nine major specialty disciplines covering the breadth of Neurological Surgery:
Neuro-Oncology (skull base, primary tumors and metastatic disease)

Surgical treatment of Epilepsy and Brain Mapping

Cerebrovascular Disorders (Extra and Intracranial, cranial microsurgery and interventional/endovascular surgery)

Spine and Spinal Cord Disorders

Trauma, Cranial and Spinal

Pediatric and Congenital Disorders

Stereotactic Surgery and Radiosurgery

Surgical Treatment of Pain

Restorative Neurosurgery (Deep Brain Stimulation, Spasticity and Peripheral Nerve Surgery)
Does completing a clerkship increase my chances of matching as a resident?
The Department of Neurological Surgery considers each applicant on an individual basis. Completing a clerkship can strengthen your application, as it may highlight your skills and abilities and allows faculty members and residents to get to know you better. It is, however, by no means necessary, as plenty of our residents have matched without completing a sub-internship with our program.
What role do grades and test scores play in the application process?
Medical students applying to the UW Department of Neurological Surgery residency program must have passed USMLE Step 2 CK and CS and graduated from medical school.
Criteria for interview eligibility include:
Exceptional performance in all basic science courses

Exceptional performance in all required clerkships

Exceptional USMLE Step 1 score

Exceptional letters of recommendation
Applicants with unusual strengths who do not meet all the above criteria will be considered on an individual basis.
Which Hospitals and Training Centers are included in the residency program?
The academic and clinical program is enhanced by the fact that the training occurs in four diverse locations affiliated with the University of Washington:
These four hospitals are all located in Seattle, Washington, and play complementary roles providing specialized care for all people in Seattle and the WWAMI region – Washington, Wyoming, Alaska, Montana, and Idaho.
What are the research opportunities at the University of Washington?
Please follow the link to learn more about research opportunities and resources for neurosurgical residents.
What support is provided for resident education?
 The Department of Neurological Surgery upholds the requirements of the University of Washington Housestaff Association collective bargaining agreement.  In addition to the CBA requirements, R1 residents are provided with a set or relevant books, loupes, and lead, and R2-R7 residents are provided a professional development/book fund of $750/year, exceeding the minimum CBA requirement. The department also provides travel reimbursement for conferences, meetings, and operative courses according to departmental policies.
What types of teaching conferences are available for resident education?
Teaching conferences as Harborview Medical Center (HMC) include:
Wednesdays: Grand Rounds (1 hour) and Resident Education (1 hour)

Thursdays: Pre-operative conference, Skull Base Tumor conference

Fridays: Angiography Review
Teaching conferences as University of Washington Medical Center (UWMC) include:
Tuesdays: Pre-operative Spine conference

Wednesdays: Pre-operative conference, Neuro-Oncology Tumor Board
Teaching conferences as Seattle Children's Hospital (SCH) include:
What is it like to live in Seattle and the Northwest?
One of the greatest benefits of training at the University of Washington is the opportunity to live in a beautiful, safe, culturally diverse Northwest. The coffee, the salmon, and the quality of life can't be matched anywhere else! Follow the link for more information on what the Northwest has to offer.