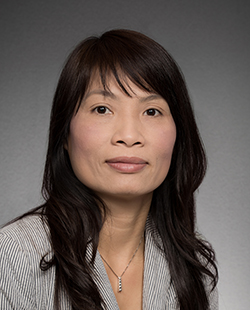 Biography
Michelle Nguyen-Levy, D.N.P., A.R.N.P., is a certified adult nurse practitioner who works as a neurohospitalist for the Department of Neurosurgery at Harborview Medical Center, Seattle. Nguyen-Levy provides care to patients with spine and neurological disorders.
Nguyen-Levy earned her Bachelor of Science in Nursing at Seattle University, Washington. She completed didactic training for her Master of Nursing at Baylor University, Dallas, Texas, and clinically trained at Ball State University/Ball Memorial Hospital, Muncie, Indiana. She returned to Seattle University to earn her Doctor of Nursing degree.
Nguyen-Levy believes access to healthcare should be assured to all through universal coverage health systems.
Personal Interests
In her spare time, Nguyen-Levy enjoys flower arranging art, hiking and traveling the world with her two children and husband.
Education
Medical Education
Ball State University