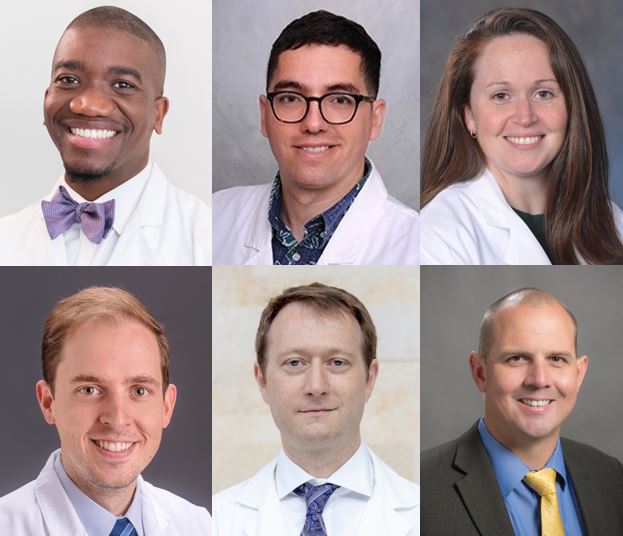 Matthew N. Anderson, MD (Endovascular), Robert T. Buckley, MD (Pediatric), Caroline Hadley, MD (Cerebrovascular), Joseph P. Herbert, MD (Spine), Travis C. Hill, MD, PhD (Spine), Michael Meyer, MD (Endovascular)
Matthew N. Anderson, MD
Matthew N. Anderson is originally from Indianapolis, Indiana. He completed his undergraduate degree in Biological Sciences at Stanford University. While there, Matthew was president of the Stanford Black Pre-Medical Organization, an organization dedicated to increasing the number of African American doctors in medicine. He then attended University of Connecticut School of Medicine where he was co-president of the Student National Medical Association for two years. Throughout his academic career, Matthew has been interested in learning ways to increase diversity in medicine through various mentoring and pipeline programs. Matthew completed his neurosurgical residency at Brown University where he served as president and treasurer of the Brown Minority Housestaff Association. He also sat on the Graduate Medical Education Council, Office of Diversity and Multicultural Affairs Council and was the resident supervisor of the Neurosurgery Interest Group. Matthew's primary clinical interest is in cerebrovascular neurosurgery, specifically the interventional treatment of ischemic stroke and pediatric vascular malformations. He enjoys reading, running, weightlifting, cycling, hiking, karaoke and traveling when outside of the hospital.  Dr. Anderson is our endovascular fellow.
Robert T. Buckley, MD
Dr. Buckley is a Clinical Assistant Professor of Neurological Surgery at the University of Washington. He is our 2023 pediatric fellow.
Caroline Hadley, MD
Dr. Hadley was born and raised in Washington, DC. She graduated from Duke University with a Bachelor of Science in Biology in 2011. She completed medical school at Baylor College of Medicine, where she stayed for her neurosurgery residency. Her interests are skull base, open vascular neurosurgery, and neurocritical care. Dr. Hadley is our cerebrovascular fellow.
Joseph P. Herbert, MD
Dr. Herbert is originally from Houston, Texas.  He graduated Magna Cum Laude from Texas Tech University in Lubbock with a BS in Cell and Molecular Biology as well as a BA in Spanish.  He obtained his medical degree from the University of Texas Medical School at Houston and graduated his residency in Neurological Surgery from the University of Missouri in Columbia in June 2023.  Dr. Herbert is our spine fellow.
Travis C. Hill, MD, PhD
Dr. Travis Hill is a fellow in the neurosurgery spine fellowship program.  He obtained his BS in psychology from the University of Massachusetts, Amherst, followed by a PhD in neuroscience at the University of California, Davis.  He then completed medical school and his neurosurgical residency at New York University. Dr. Hill is our other spine fellow.
Michael Meyer, MD
Michael was born in Orange County and raised in Bakersfield, California. He went to West Point and graduated in 2008 with honors in mechanical engineering. He was then commissioned a Second Lieutenant in the United States Army, and served in various positions from 2008 to 2012, most notably as the second in command of approximately 200 soldiers in the 43rd Combat Engineer Company, while deployed to Iraq for one year from summer 2010 to 2011. During this assignment he was promoted to Captain and awarded the Bronze Star Medal. While in Iraq he decided to change career trajectories, applying to medical school intending to become a military surgeon. During first year he decided to pursue neurosurgery.  He graduated in May 2016 as his class co-valedictorian and Board of Regents Award recipient.  His wife, Danielle, is a CPA and works as the controller for Qumulo, a technology company here in Seattle. They have an English springer spaniel named Price. Mike's interests outside of work are fishing and spearfishing.  Dr. Meyer is our other endovascular fellow.