Overview
The Department of Neurological Surgery is a dynamic treatment, training and discovery driven enterprise dedicated to improving life through leadership in care and research that restores neural function. The Department includes 20 neurosurgeons providing adult and pediatric care, 15 neuroscientists engaged in a broad array of research and 79 adjunct clinical and research faculty with appointments as diverse as anesthesiology, applied physics, computer science, material science, mathematics, neurology, orthopedics and sports medicine, psychiatry, pathology, and radiology. We have 20 MD or MD/PhDs in our Neurological Surgery Residency program.
The Department has expertise in the following neurosurgical specialty areas: Cerebrovascular; Functional (Epilepsy, Pain, Movement Disorders and Psychosurgery); Pediatric; Spine; Trauma (mild to severe TBI); and Tumor. UW neurosurgeons perform more traumatic brain and spine, brain tumor, skull base and aneurysm surgeries than any other medical system in the Pacific Northwest, and provide regional leadership in neurosurgical care and training for trauma, epilepsy, movement disorders, vascular neurosurgery, transcranial Doppler monitoring, neurocutaneous disorders, pituitary tumors and pediatric cases. We are privileged to attract and train the best and brightest doctors to our seven-year residency program, leading to careers in academic medicine and neuroscience research.
Neurological Surgery has over 20,000 sq ft of dedicated laboratory research and office space at the University of Washington, Seattle Children's Hospital and Seattle Children's Research Institute. Clinical activities are located at Harborview Medical Center, UW Medical Center, Seattle Children's Hospital, the VA Medical Center, Northwest Hospital and Valley Medical Center. Research activities are sited at HMC, UWMC, SCRI and the UW Institute for Stem Cell and Regenerative Medicine. All faculty have appropriate office, research space, computer and administrative support in addition to the Universities' exceptional core resources and facilities. Neurological Surgery outreach and partnerships include NIH sponsored brain injury research in 5 Latin American countries, extensive involvement with the NSF Engineering Research Center for Sensorimotor Neural Engineering, the BRAINS program which encourages retention of highly skilled scientists from diverse and underrepresented groups, and the National Football League Head, Neck and Spine Committee.
Sections
History
Neurological Surgery celebrated its 65th birthday in 2013 and shows three developmental epochs and three different models of growth during its history.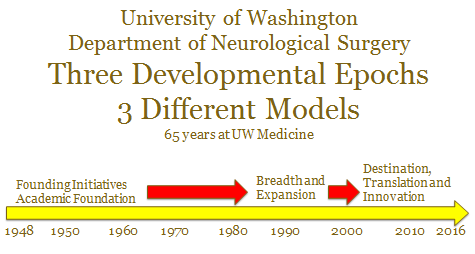 The University of Washington School of Medicine was founded in 1946, and the first class graduated in 1950. At that time, the Chairs of Medicine and Surgery were Robert Williams and Henry Harkins. Dr. Harkins' first faculty appointment was the Chief of Division of Neurological Surgery—Arthur A. Ward who arrived in Seattle in 1948. Under Dr. Ward's leadership, the Division became a Department in 1965.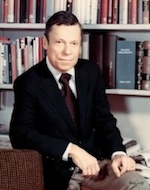 First Epoch: Founding Initiatives 1948-1980
 
Established Vision and Philosophy of Multidisciplinary Clinical Care, Research and Training
The first epoch of Neurological Surgery established the Department's vision and philosophy of combining Multidisciplinary Clinical Care, Research and Training. The residency training program was initiated in 1953 and the first graduate was in 1957. Further, during this time Dr. Ward established a model of combining basic research within the clinical context, and started the practice of sub-specialization. Although this was a period of comparatively low clinical volume (one case a week) it was one of high academic productivity.
Milestones during this first epoch include:
Brain mapping
Introduction of epilepsy surgery and Epi-Center
Pioneered multi-disciplinary approach to Epilepsy care and research
Initiated TBI Research (seizure prophylaxis)
Neuropsychology and Rehabilitation research
Initiated Pain Research and pain surgery
Placed first shunts and closed spina bifida
Early adoption of imaging techniques: CT integration with EEG
NIH funding supporting R01s and T32s, Program Projects and Center Grants
Second Epoch: Breadth and Expansion 1983 - 2002
During this period the department expanded research and further integrated the model of basic research combined with general clinical practice. Milestones during this time included:
Initiating the Cerebral Vascular Program
Expanding neuro-trauma and Traumatic Brain Injury services including ICU
Establishing a Brain Tumor Program
Gamma Knife Installed
Core Faculty increases
Research funding expands to include industry sponsored clinical trials
Epilepsy Center transitions to Neurology
Clinical Fellowships established in Spine and Epilepsy
Third Epoch: Destination, Innovation and Translation 2002 – 2017+


Establishing a model of Specialization, Innovation in Technique and Translational Research
The third epoch of our development includes further establishing UW Neurological Surgery as a destination for both emergent and elective patient care. Our model has been Specialization, Innovation in Technique and Translational Research. Highlights of the third epoch include:
Faculty

Added 20 new faculty - expanded to 79 adjunct clinical and research faculty
Clinical Advances
Clinical services have become a destination – referrals from 50 states & 38 countries
HMC Neurological Surgery Service receives about 1000 transfers/yr from outside facilities.
Founded Pituitary Service and UW Medicine Brain Aneurysm Center
Co-founded Seattle Sports Concussion Program
Pioneered minimally invasive procedures in cerebrovascular, skull base and pediatrics
Established Movement Disorders Program and DBS procedures
Supported Stroke Center and Telestroke Programs
Developed Pediatric Craniofacial service
Infrastructure
We have supported development of new infrastructure to address patient needs, advance research and develop the next generation of neurosurgeons, clinical and basic scientists. During this period we have:
Opened new state-of-the-art trauma and neuroscience ICUs

in the new Norm Maleng Building and opened our main office in the new Ninth and Jefferson 14story Building at Harborview Medical Center.

Co-Founded and host the UW Medicine Neurosciences Institute.

Key stakeholders and partners within the NSI include the Departments of Anesthesia, Medicine, Neurology, Neurological Surgery, Otolaryngology, Pathology, Pharmacology, Psychiatry, Radiation Oncology, Radiology, and Rehabilitation Medicine. The Institute's mission is to cooperate, collaborate, and coordinate clinical neuroscience patient care, teaching and research across 11 School of Medicine Departments, 5 hospitals, 7 community health clinics and other entities such as Airlift Northwest to address neurological conditions within the UW system.
Research
Funding – we have experienced a dramatic increase in research funding since 2002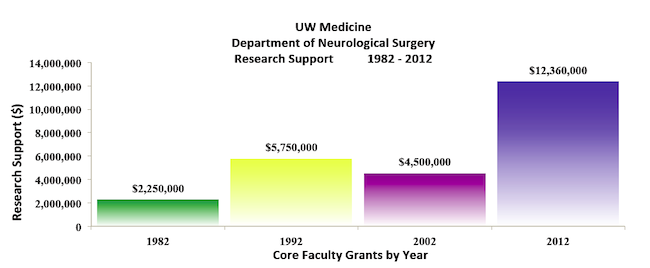 Neurological Surgery supports a wide range of active research through NIH, Foundation and Industry initiatives. Our active project areas include research in brain cancer, basic injury mechanisms, stem cell and regenerative medicine, nanotechnology, epilepsy, neuroprotection, BCI for control of robotic neuro-prosthetic devices, brain injury, and global health research. Neurological Surgery ranks in the top 10 neurosurgery programs nationally in research funding.
Research highlights include:
Co-Sponsored the Center for Integrative Brain Research at Seattle Children's Research Institute, and appointed 7 Core Faculty (including Director)
Awarded New Neurosciences Training Grant (PI Jeff Ojemann)
Awarded New Nanotechnology in Cancer Training Grant (PI Miqin Zhang/Ellenbogen)
Awarded a Department of Defense funded Traumatic Brain Injury and Post Traumatic Stress Disorder Clinical Consortium site.
Awarded an NIH/NINDS Neuro-proteomics P30 Core Laboratory
Awarded two major Global Health TBI research grants in 5 Latin American countries
Collaboration
In the past 5 years Faculty have participated in proposals originated by 95 investigators in other departments of the UW Medicine, Nursing, Public Health, Pharmacy, Engineering, Arts and Sciences.  Over 50 were funded.
Dedicated Research Space
In response to our increased research program– we have expanded our dedicated clinical and research space >100% since 2002.  We have established:
Two Collaborative Neural Engineering NIH Funded Laboratories (Brain Computer Interfaces and Nanotechnology)
Two new UW Medicine NIH and foundation supported laboratories: Stem Cell and Brain Tumor in the new UW Medicine Institute for Stem Cell and Regenerative Medicine
Translational Research and Innovation
Faculty have been involved with 35 sponsored Phase II or Phase III Clinical Trials in the past 10 years.  In addition:  
Current Faculty hold 30 patents with 114 filed/pending
Residents are on 14 issued and 22 filed patents
Six companies have been formed in the past five years by seven faculty members
Scientific Impact

Neurological Surgery faculty have had substantial impact and advanced the field through their publications. Highlights include:
In the last 10 years faculty have published 566 peer-reviewed articles
Residents have coauthored 25% of these publications
Current faculty have published 2500 peer-reviewed articles cited over 20,000 times.
Half of our faculty have an h-index > 10 and 25% have an h-index > 15
Three faculty publications are in the "Top 100" citations
Faculty serve on editorial boards on over 50 journals
Neurological Surgery hosts the Journal of Neurochemistry

Training:
During the current epoch our Residency program has expanded by one-third and increased five-fold in terms of gender diversity.  We are now counted amongst the Top 5 Residency programs in the country.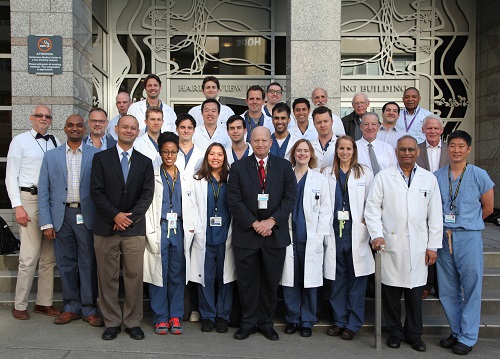 Other educational highlights include:
New AANS/CNS funded Cerebrovascular and Trauma fellowships have been established
Visiting Fellowships have been expanded –  in 2012-2013 alone we hosted 18 visiting scientists and clinicians from a wide range of countries including the US, China, Pakistan, Latin America and Europe.
Chinese Neurosurgical Society liaison has been established and contributes substantially to our Visiting Fellowships program.
ISIS facility for resident courses at HMC has proven transformational for development of resident and fellows psychomotor skills
Educating the next generation
Further, we are influencing the future of neuroscience and neurosurgery by establishing a Summer Program for high school and college students that provides an 8-week laboratory experience, attendance at Neurological Surgery grand rounds and a weekly faculty seminar organized for the student group. We have placed 60 students from 25 different schools in 10 different laboratories, since the program began in 2008. They have attended over 75 separate Grand Rounds presentations, observed and followed 10 different surgeons, and had weekly student group presentations by 15 different faculty members.
History of Harborview Medical Center
Harborview Medical Center began as a six-bed King County welfare hospital in a two-story South Seattle building in 1877. By 1906, the hospital had moved into a new building in Georgetown with room for 225 patient beds.
Another move occurred in 1931, when the center wing of the present hospital was completed, and King County Hospital's name was changed to Harborview.
Today, Harborview is a leading academic medical center that houses several centers of emphasis. Harborview is well-known as a patient care facility that also excels in teaching and discovery.
University of Washington School of Medicine
Opened in 1946, The School of Medicine is a nationally and internationally recognized leader in medical education, patient care, and scientific research. US News & World Report ranks us among the best medical schools in the nation, and first for primary care. The School of Medicine is the second largest in the nation with more than 1,300 faculty members, and serves as a regional medical resource for the states of Washington, Wyoming, Alaska, Montana, and Idaho.
The University of Washington
The University of Washington was founded in 1861 on a ten-acre knoll in what is now downtown Seattle, and moved to its present 660-acre site on the shores of Lake Washington in 1895. The University offers instruction in more than 200 academic disciplines to more than 34,000 students.