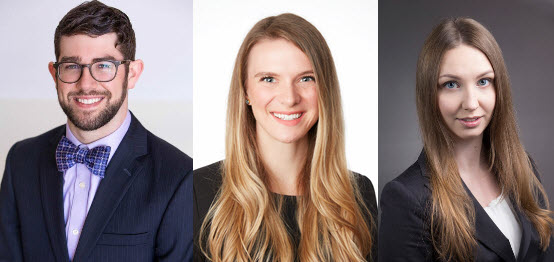 Scott Boop, originally from Little Rock, Arkansas, received his BS in Neuroscience at Trinity University in San Antonio and then his MPH from University of Memphis.  He will graduate from the University of Arkansas for Medical Sciences College of Medicine in May 2019.  He has contributed to 3 publications including 1 in which he was first author.
Maggie McGrath (née Jeakins-Cooley), born and raised in Montana, attended college at the University of Montana where she graduated with a BS in Biochemistry and Chemistry in 2014.  Currently a 4th year medical student at the University of Washington School of Medicine, Maggie is a member of Alpha Omega Alpha and is President of the UW Student Chapter of the American Association of Neurological Surgeons. 
Evgeniya Tyrtova, originally from Omsk, Russia received her BS in Nursing from Fairleigh Dickinson University in New Jersey. Following graduation, Evgeniya worked as a full-time registered nurse for two years to gain first-hand patient care experience before attending Yale School of Medicine. Evgeniya has received several awards including The Integra Foundation Award for the best research paper in CNS tumor section, Congress of Neurological Surgeons.