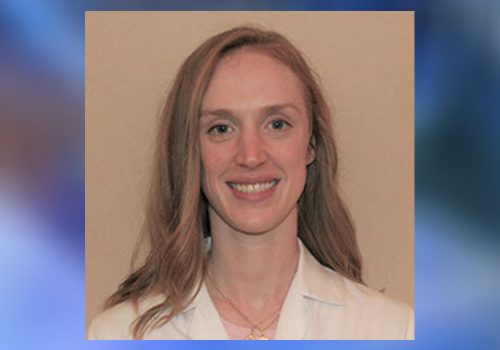 Congratulations to Dr. Carroll who will be part of the first class of the Society of Neurological Surgeons' (SNS) Neurosurgeon-Scientist Training Program (NSTP). The application process was very competitive with a number of excellent proposals received from resident applicants all over the country.  Dr. Carroll will be assigned a national neurosurgeon-scientist mentor and receive a $50,000 grant for her research project: The role of CRHR1 genotype and hypothalamic-pituitary-adrenal axis dysfunction in depression after aneurysm rupture.  As part of the program, Kate will attend the 2023 CNS Annual Meeting in Washington DC as well as the NINDS Workshop in March of 2024.  Read more here.
Dr. Carroll describes her research as follows:
Aneurysmal subarachnoid hemorrhage (aSAH) is associated with newly diagnosed depression in 30-40% of patients during their recovery. Research into depression after critical illness and ischemic stroke implicates dysregulation of the hypothalamic-pituitary-adrenal (HPA) axis as potentially contributing to the increased risk. My goal is to investigate the role of HPA axis dysregulation in the development of depression after aneurysmal subarachnoid hemorrhage (aSAH). I hypothesize that specific single-nucleotide polymorphisms (SNP) of corticotropin-releasing hormone receptor 1 (CRHR1), a G protein-coupled receptor in the limbic system and anterior pituitary, are associated with loss of negative feedback of the HPA axis and that this contributes to the risk of developing depression after aSAH. I am measuring hormone levels in blood and cerebrospinal fluid during hospitalization and then following cortisol levels and measurements of depression as patients recover in the year after rupture. Understanding the role of CRHR1 genotype in the development of depression will help identify patients who would benefit from prophylactic anti-depressant treatment after aSAH.