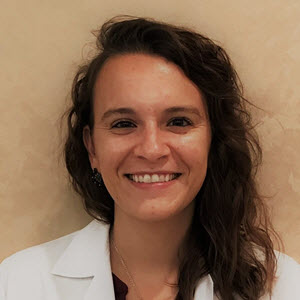 Biography
Jessica was born in Plano, Texas and grew up in Louisville, Kentucky. She studied physics and English in college and was a member of the inaugural class of James Brown Graham Fellows, a scholarship that supports students to pursue yearly enrichment experiences. Through this program she studied and volunteered in Panama, Greece, Thailand, Nigeria, and India. Through these experiences she identified an interest in global health, and in medical school she was awarded a Fulbright-Fogarty Fellowship to spend a year building a traumatic brain and spinal cord injury database in Lilongwe, Malawi under the mentorship of Dr. Anthony Charles. Her husband Michael is an accomplished runner, and was named an All-American in the 10K during their time at the University of Louisville. He has since become a two-time Olympic Marathon Trials qualifier. Jessica and Michael like to spend their free time camping in national parks, wine tasting, and discussing Wendell Berry's essays.    
Select awards and honors  
AANS/CNS Section on Trauma and Critical Care Poster Competition Finalist, 2017 
Gold Humanism Honor Society Inductee, 2017 
Fulbright-Fogarty Fellowship in Public Health to Malawi, 2016-2017  
Lily Banerjee Endowment Scholarship, 2015-2016 
Global Health Distinction Track Selection, Class of 2017 
James Graham Brown Fellow, University of Louisville: Class of 2013 
Engage Lead Serve Board Award for Outstanding Leadership, 2013 
The Hershberg Academic Scholarship, 2011
Research Interests
Jessica's primary academic interests include functional outcomes following traumatic brain and spinal cord injury, and delivery of health care for these issues in low-resource settings.
Education
Bachelor of Arts, Physics and English, 2013, University of Louisville 
Doctor of Medicine, 2018, University of Louisville School of Medicine 
Publications
Eaton J, Mukuzunga C, Grudziak J, Charles A. Characteristics and Outcomes of Traumatic Spinal Cord Injury in a Low-Resource Setting. Trop Doct. 2019 Jan; 49(1): 62-64. PMID: 30451091 
Quinsey C, Eaton J, Northam W, Gilleskie M, Charles A, Hadar E. Challenges and Opportunities for Effective Data Collection in Global Neurosurgery: Traumatic Brain Injury Surveillance Experience in Malawi. Neurosurg Focus. 2018 Oct; 45(4):E10. PMID: 30269581. 
Prin M, Eaton J, Mtalimanja O, Charles A. High Elective Surgery Cancellation Rate in Malawi Primarily Due to Infrastructural Limitations. World J Surg. 2018 Jun; 42(6): 1597-1602. PMID: 29147893 
Eaton J, Hanif AB, Mzumara S, Charles A. The Utility of Local Anesthesia in Neurosurgical Interventions in a Low-Resource Setting: a Case Series.  
World J Surg. 2018 May; (5): 1248-1253. PMID: 29022129 
Eaton J, Hanif AB, Grudziak J, Charles A. Epidemiology, Management, and Functional Outcomes of Traumatic Brain Injury in sub-Saharan Africa.  
World Neurosurg. 2017 Dec; 108:257-264. PMID: 28583456 
Eaton J, Hanif AB, Mulima G, Kajombo C, Charles A. Outcomes Following Exploratory Burr Holes for Traumatic Brain Injury in a Resource Poor Setting. World Neurosurgery. 2017, Jun; Epub Ahead of Print: S1878-8750. PMID: 28583456. 
Eaton J, Grudziak J, Hanif AB, Chisenga WC, Hadar E, Charles A. The Effect of Anatomic Location of Injury on Mortality Risk in sub-Saharan Africa: the Role of Head Injury. Injury. 2017, Jul; 48(7): 1432-1438. PMID: 8551054. 
James RF, Kramer DR, Aljuboori ZS, Parikh G, Adams SW, Eaton JC, Abou Al-Shaar H, Badjatia N, Mack WJ, Simard JM. Novel Treatments in Neuroprotection for Aneurysmal Subarachnoid Hemorrhage. Curr Treat Options Neurol. 2016 Aug;18(8):38. PMID: 27325362. 
Udelsman BV, Eaton J, Munniapan A, Morse CR, Wright CD, Mathisen DJ.  Repair of Large Airway Defects with Bioprosthetic Materials.  J Thorac Cardiovasc Surg. 2016 Aug; 152(5): 1388-1397. PMID: 27751243.