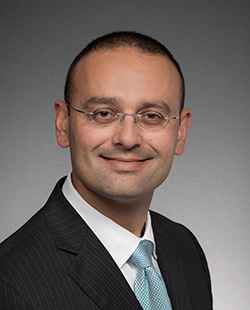 Job Title
Associate Professor of Neurological Surgery
Chief of Neurological Surgery UWMC-Montlake, UWMC-Northwest
Director, Skull Base and Minimally Invasive Neurosurgery
Director, Multi-Disciplinary Pituitary Program
Co-Director, The Alvord Brain Tumor Center
Associate Residency Program Director
Co-Director, Skull Base and Vascular Neurosurgery Fellowship
Biography
Dr. Manuel Ferreira is the chief of Neurological Surgery Service at the University of Washington Medical Center, co-director of Skull Base and Minimally Invasive Neurosurgery, Director of UW Medicine Multi-disciplinary Pituitary Program and a UW associate professor of Neurological Surgery. He is the surgical director of the UW Medicine Multi-Disciplinary Pituitary Program. He received his training at the Massachusetts General Hospital in Boston, where he received specialized neurosurgical training in the treatment of neurofibromatosis and acoustic neuromas (vestibular schwannomas) with Dr. Robert Martuza (the discoverer of the NF2 gene) and Dr. Fred Barker. He is board certified by the American Board of Neurological Surgery and fellowship-trained in the treatment of complex tumors of the brain and skull base. Dr. Ferreira utilizes traditional open skull base approaches, minimally invasive endoscopic procedures and Gamma Knife radio-surgery to provide a multifaceted approach to the tumor patient.
Clinical Interest
He specializes in the multi-modality treatment for tumors of the skull base, brain and spinal cord, including meningiomas; schwannomas (acoustic neuromas/vestibular schwannomas, trigeminal, glossopharyngeal, hypoglossal, spinal); pituitary tumors (Cushing's disease, acromegaly); craniopharyngiomas; neurofibromatosis type 1 and 2 (acoustic neuromas, schwannomas, meningiomas); chordomas and chondrosarcomas; hemangioblastomas syndromes (trigeminal neuralgia, hemifacial spasm, glossopharyngeal neuralgia, spastic torticollis); Von Hippel-Lindau (VHL); hemangioblastomas; sinonasal tumors of the skull base; and cysts (epidermoid, dermoid, Rathke's cleft).
Research Interests
The genetics of skull base tumors, cerebral vascular disorders (aneurysms, AVM's, AVF's) and inherited disorders that give rise to these diagnosis (neurofibromatoses, von Hippel-Lindau, multiple endocrine neoplasia (MEN1/2)). He hopes to use genetic discovery to predict response to therapy.
Personal Interests
Backpacking, hiking, skiing and fishing with his two daughters and wife.
Education
Medical Education
Georgetown University School of Medicine
Internship
Massachusetts General Hospital
Residency
Massachusetts General Hospital
Fellowship
University of Washington
Board Certification
American Board of Neurological Surgery - 2014