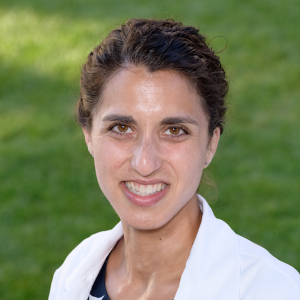 Biography
Dr. Goldstein is the pediatric neurosurgery fellow and acting instructor at Seattle Children's Hospital. A born and raised New Yorker, she received her BS in neuroscience from Brown University, and then went on to complete her medical school training at Columbia University College of Physicians and Surgeons. She was the recipient of a Doris Duke research fellowship for the 2011-2012 academic year. Dr. Goldstein completed her seven-year neurological surgery residency at Columbia University, prior to moving to Seattle for her pediatric neurosurgery fellowship.
Research Interests
Epilepsy, international neurosurgery
Personal Interests
Running, hiking, traveling
Education
Medical Education
Columbia University
Residency
Columbia University
Publications
Goldstein HE, Smith EH, Gross RE, Jobst BC, Lega BC, Sperling MR, Worrell GA, Zaghloul KA, Wanda PA, Kahana MJ, Rizzuto DS, Schevon CA, McKhann GM, Sheth SA. Risk of Seizures Induced by Intracranial Research Stimulation: Analysis of 770 Stimulation Sessions. J Neural Eng, Nov 2019. PMID: 31509808.
Goldstein HE, Shao B, Madsen PJ, Hartnett SM, Blount JP, Brockmeyer DL, Campbell RM, Conklin M, Hankinson TC, Heuer GG, Jea AH, Kennedy BC, Tuite GF, Rodriguez L, Feldstein NA, Vitale MG, Anderson RCE. Increased Complications Without Neurological Benefit are Associated with Prophylactic Spinal Cord Untethering Prior to Scoliosis Surgery in Children with Myelomeningocele. Childs Nerv Syst, Nov 2019; 35(11):2187-2194. PMID: 31267182.
Goldstein HE, Youngerman BE, Shao B, Akman CI, Mandel AM, McBrian DK, Riviello JJ, Sheth SA, McKhann GM, Feldstein NA. Safety and Efficacy of Stereoelectroencephalography in Pediatric Focal Epilepsy: a Single-Center Experience. J Neurosurg Pediatr, Oct 2018; 22(4):444-452. PMID: 30028270.
Goldstein HE, Neira JA, Banu M, Aldana PR, Braga B, Brockmeyer D, DiLuna ML, Fulkerson DH, Hankinson TC, Jea AH, Lew SM, Limbrick DD, Martin J, Pahys JM, Rodriguez LF, Rozzelle CJ, Tuite GF, Wetjen NM, Anderson RCE. Growth and Alignment of the Pediatric Subaxial Cervical Spine Following Instrumentation and Fusion: a Multicenter study of the Pediatric Craniocervical Society. J Neurosurg Pediatr, Jul 2018; 22(1):81-88. PMID: 29676682.
Komotar RJ, Goldstein HE, Bruce JN. The Annual Neurosurgery Charity Softball Tournament: 15th Anniversary Commemorative Article. The creation, development, and establishment of a neurosurgical tradition. J Neurosurg, June 2018; 128(6):1605-1611. PMID: 29473774.
Pisapia JM, Akbari H, Rozycki M, Goldstein H, Bakas S, Rathore S, Moldenhauer JS, Storm PB, Zarnow DM, Anderson RCE, Heuer GG, Davatzikos C. Use of Fetal Magnetic Resonance Image Analysis and Machine Learning to Predict the Need for Postnatal Cerebrospinal Fluid Diversion in Fetal Ventriculomegaly. JAMA Pediatr, Feb 2018; 172(2):128-135. PMID: 29255892.
Brockmeyer DL, Sivakumar W, Mazur MD, Sayama CM, Goldstein HE, Lew SM, Hankinson TC, Anderson RCE, Jea A, Aldana PR, Proctor M, Hedequist D, Riva-Cambrin JK; Pediatric Craniocervical Society. Identifying Factors Predictive of Atlantoaxial Fusion Failure in Pediatric Patients: Lessons Learned From a Retrospective Pediatric Craniocervical Society Study. Spine, June 2018; 1;43(11):754-760. PMID: 29189644.
Goldstein HE, Anderson RC. Classification and Management of Pediatric Craniocervical Injuries. Neurosurg Clin N Am, Jan 2017; 28(1); 73-90. PMID: 27886884.
Goldstein H, Solomon RA. Epidemiology of Cavernous Malformations. Handb Clin Neurol, 2017; 143:241-247. PMID: 28552146.
Taylor BES, Youngerman BE, Goldstein H, Kabat DH, Appelboom G, Gold WE, Connolly ESC. Causes and Timing of Unplanned Early Readmission After Neurosurgery. J Neurosurg, Sept 2016; 79(3): 356-69. PMID: 26562821.
Goldstein HE, Kennedy BC, Santos J, Anderson RCE, Feldstein NA. Bilateral occipital endoscopic choroid plexus cauterization for persistent hydrocephalus following frontal endoscopic third ventriculostomy and choroid plexus cauterization – the "bowling ball" technique. Childs Nerv Syst., Apr 2016; 32(4):697-701. PMID: 26458905.
Goldstein HE, Anderson RC. The Era of Neuroendoscopy: Just How Far Can We Go? World Neurosurg, Mar 2016; 87:656-8. PMID: 26523764.
Goldstein H, Anderson, RC. Craniovertebral Junction Instability in the Setting of Chiari I Malformation. Neurosurg Clin N Am, Oct 2015; 26(4): 561-9. PMID: 26408066.
Goldstein HE, Feldstein NA, Anderson RC. Letter to the Editor: Ventriculoiliac shunt: a single case experience. J Neurosurg Pediatr, July 2015; 10: 1-2. PMID: 26161718.
Gill BJ, Pisapia DJ, Malone HR, Goldstein H, Lei L, Sonabend A, Yun J, Samanamud J, Sims JS, Banu M, Dovas A, Teich AF, Sheth SA, McKhann GM, Sisti MB, Bruce JN, Sims PA, Canoll P. MRI-localized biopsies reveal subtype-specific differences in molecular and cellular composition at the margins of glioblastoma. Proc Natl Acad Sci USA, August 2014; 111(34):12550-5. PMID: 25114226.
Sonabend AM, Zacharia BE, Goldstein H, Bruce SS, Hershman D, Neugut AI, Bruce JN. Response (reponse to Comment on The role for adjuvant radiotherapy in the treatment of hemangiopericytoma: A Surveillance, Epidemiology, and End-Results Analysis). J Neurosurg, February 2014; 120(2):298-9. PMID: 24645179.
Sonabend AM, Zacharia BE, Goldstein H, Bruce SS, Hershman D, Neugut AI, Bruce JN. The role for adjuvant radiotherapy in the treatment of hemangiopericytoma: A Surveillance, Epidemiology, and End-Results Analysis. J Neurosurg, February 2014; 120(2):300-8. PMID: 24286142.
Hopkins BD, Fine B, Steinback N, Dendy M, Rapp Z, Shaw J, Pappas K, Yu JS, Hodakoski C, Mense S, Klein J, Pegno S, Sulis ML, Goldstein H, Amendolara B, Lei L, Maurer M, Bruce J, Canoll P, Hibshoosh H, Parsons R. A secreted PTEN Phosphatase that Enters Cells to Alter Signaling and Survival. Science, July 2013; 341(6144):399-402. PMID: 23744781.
Ellis JA, Goldstein H, Meyers PM, Lavine SD, Connolly ES, Jr., Mayer S, Badjatia N, Altschul D. Post-subarachnoid hemorrhage vasospasm in patients with primary headache disorders. Neurocritical Care, June 2013; 18(3):362-7. PMID: 23192335.
Zacharia BE, Bruce S, Goldstein H, Malone HR, Neugut A, Bruce JN. Incidence, Treatment and Survival of Patients with Craniopharyngioma in the Surveillance, Epidemiology and End Results Program. Neuro-oncology, August 2012; 14(8): 1070-8. PMID: 22735773.
Ellis JA, Goldstein H, Connolly ES, Jr., Meyers PM. Carotid-Cavernous Fistulas. Neurosurgical Focus, May 2012; 32(5): E9. PMID: 22537135.
Goldstein H, Sonabend AM, Connolly ES, Jr. Chronic Subdural Hematomas: Perspective on Current Treatment Paradigms. World Neurosurg, July 2012; 78(1-2): 66-8. PMID: 22120236.