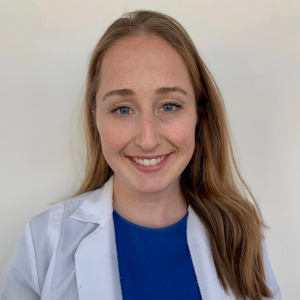 Biography
Eliza was born and raised in Seattle, WA. She attended Cornell University where she majored in neurobiology and performed research in the neural mechanisms of trial-and-error learning. After graduating, Eliza researched the spatiotemporal dynamics of seizure propagation in the Dr. Theodore Schwartz Lab at Weill Cornell Medicine before matriculating to The University of Colorado School of Medicine. In her spare time, Eliza enjoys trail running, backpacking, and maximizing time spent in the mountains. 
Clinical Interest
Functional Neurosurgery, Pediatrics
Research Interests
Movement disorders, motor learning, seizure disorders, health disparities 
Personal Interests
Medical education, diversity, equity and inclusion in STEM, all things outdoors.  
Education
Bachelor of Arts, Neurobiology and Animal Behavior, 2015, Cornell University 
Doctor of Medicine, 2021, University of Colorado School of Medicine 
Publications
Gadagkar V, Puzerey PA, Chen R, Baird-Daniel E, Farhang AR, Goldberg JH "Dopamine neurons encode performance error in singing birds" (2016) 

Science.

  

Baird-Daniel E,

 Daniel AG, Wenzel M, Li D, Liou JY, Laffont P, Zhao M, Yuste R, Ma H, Schwartz TH "Glial Calcium Waves are Triggered by Seizure Activity and Not Essential for Initiating Ictal Onset or Neurovascular Coupling." (2018) Cerebral Cortex.  
Liou, J. Y., Ma, H., Wenzel, M., Zhao, M., Baird-Daniel, E., Smith, E. H, Schevon CA. "Role of inhibitory control in modulating focal seizure spread." (2018) 

Brain: a journal of neurology

 
Nagappan S, Liu L, Fetcho R,  Nguyen J, Nishimura N, Radwanski R, Lieberman S, Baird-Daniel E, Ma HA, Zhao  M, Schaffer C,  Schwartz, TH. "In Vivo Femtosecond Laser Subsurface Cortical Microtransections Attenuate Acute Rat Focal Seizures." (2018) Cerebral cortex 
Liou JY, Baird-Daniel E, Zhao M, Daniel AG, Schevon C, Ma H, Schwartz TH Burst suppression uncovers rapid widespread alterations in network excitability caused by an acute seizure focus." (2019) Brain: a journal of neurology 

Baird Daniel

 E, Douglas E Ney MEK inhibition with trametinib is a successful therapy in ganglioglioma. (2020) Clin Case Rep Rev, 6:  
Zimmer S, Stickrath C, Bernard A, Bianchina N, Anderson J, Launer B,  Laughter M, Baird-Daniel E, Nguyen , Friedman R, Gamble D. "University of Colorado School of Medicine COVID-19 Pandemic Response Elective Course Part 3 (Advanced Clinical Focus)." (2020) AAMC ICollaborative