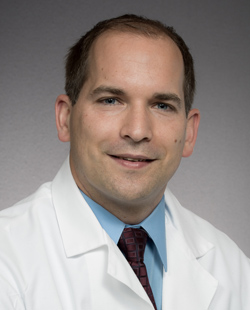 Job Title
Professor of Neurological Surgery
Raisbeck Endowed Professor of Neurological Surgery
Biography
Christoph P. Hofstetter, MD, PhD is a professor in the Department of Neurological Surgery at the University of Washington.  He is a neurosurgeon specializing in complex spine surgery with an emphasis on minimally invasive techniques. His primary clinical focus is on the surgical treatment of degenerative spinal disorders, including disc herniation, lumbar spondylolisthesis and cervical myelopathy, as well as, spinal oncology. 

Dr. Hofstetter received his M.D. from the University of Vienna, Austria, and earned his Ph.D. at the Karolinska Institute in Stockholm, Sweden, focusing on experimental treatment strategies for traumatic spinal cord injuries. He then completed a surgical internship and neurosurgery residency at New York-Presbyterian/Weill Cornell Medical Center and Memorial Sloan Kettering Cancer Center. Dr. Hofstetter completed clinical fellowship training at the Mayo Clinic and a spine fellowship focusing on complex minimally invasive spine surgery at the University of Miami.
Research Interests
Dr. Hofstetter is a faculty member in the UW Institute for Stem Cell & Regenerative Medicine. His research lab investigates various experimental treatment strategies to enhance nerve fiber plasticity and regeneration following spinal cord injury, including electrical stimulation to enhance signaling of remaining nerve fibers, replacement of lost neural cells via stem cell-based transplantation and the promotion and guidance of nerve fiber regeneration utilizing scaffolds. 

Dr. Hofstetter's clinical research focuses on the development of novel minimally invasive motion preserving spinal procedures. In particular he is investigating the use of endoscopic techniques for the treatment of disc herniations and foraminal stenosis. His research efforts strive to improve surgical tools, as wells as, to study clinical outcomes following these procedures. Dr. Hofstetter has extensive research experience in both clinical and basic science research and was awarded a prestigious NREF grant for his research efforts. He has authored over 50 peer-reviewed publications and numerous text book chapters and serves as a reviewer for several journals in neurosurgery and neuroscience.
Personal Interests
My hobbies include hiking, biking, yard and house work, playing the violin and cooking. I am married and have three children.
Education
Medical Education
Karolinska Institute
Medical University of Vienna
Internship
Weill Medical College of Cornell University
Residency
Weill Medical College of Cornell University
Fellowship
Mayo Clinic
University of Miami