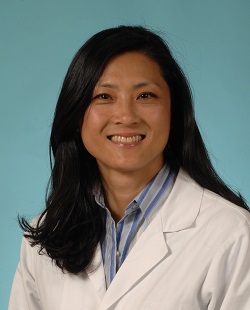 Job Title
Chief of Neurological Surgery Service at Seattle Children's
Associate Professor of Neurological Surgery
Associate Residency Program Director
Director, Pediatric Neurosurgery Fellowship
Biography
Dr. Amy Lee is an associate professor of neurological surgery and an attending neurosurgeon at Seattle Children's Hospital. 

Dr. Lee received her undergraduate degree from the College of William and Mary. She then received her M.D. from the University of Texas Health Science Center at San Antonio. She went on to complete a seven-year neurological surgery residency at Washington University in St. Louis School of Medicine/Barnes Jewish Hospital. She then went on to complete her pediatric neurosurgery fellowship at St. Louis Children's Hospital.
Clinical Interest
Craniofacial anomalies; spinal dysraphism; hydrocephalus; brain tumors.
Research Interests
MR imaging techniques; diffusion tensor imaging in traumatic brain injury; spinal cord injury.
Education
Medical Education
University of Texas Health Science Center San Antonio
Internship
Barnes Jewish Hospital
Residency
Barnes Jewish Hospital
Fellowship
Washington University/St. Louis Children's Hospital
Board Certification
American Board of Neurological Surgery - 2016
Contact Information
Seattle Children's Hospital
4800 Sand Point Way NE, M/S OA.9.220
Seattle, WA 98105
(206) 987-3560
Publications
BOOK CHAPTERS:
Lee A

, Ellenbogen RG. Endoscopic Assisted versus Open Craniosynostosis Surgery. Controversies in Neuroendoscopy. Zaidi HA & Nakaji PN (eds). Thieme Medical Publishers. New York, NY. In Press.

Lee A

, Ellenbogen RG. Unicoronal Craniosynostosis. Neurosurgery by Example: Key Cases and Fundamental Principles Clinical Series. Selden N & Baird L (eds). Oxford University Press. In Press. 
Chiarelli P, Impastato K, Gruss J, Lee A. Traumatic Skull and Facial Fractures. Principles of Neurological Surgery, 4th Edition. Ellenbogen RG, Sekhar LN, & Kitchen N (eds). Elsevier Publishing. In Press
Abecassis IJ, Lee A. "Chapter 35: Neurosurgery". In: McElroy LM and Webb TP eds. Surgery Review Illustrated 2e. McGraw-Hill Education, New York, NY 2015
Abecassis IJ, Lee A. "Chapter 9: Intracranial and Spinal Trauma". In: McElroy LM and Webb TP eds. Surgery Review Illustrated 2e. McGraw-Hill Education, New York, NY 2015
McEvoy S, Lee A. Brainstem and Cervicomedullary Tumors. Atlas of Neurosurgical Techniques, 2nd Edition. Sekhar LN & Fessler RG (eds). Thieme publishing. 2015

Lee A

, Wright NM. Occiput, C1 and C2 Instrumentation. Youmans Neurological Surgery, 6th Edition. Winn HR (ed). Elsevier Publishing. 2011
PEER-REVIEWED ARTICLES:
Bayart CB, Ishak GE, Finn LS, Lee A, Baran F, Sun A, Gupta D. Vitanza NA. Pilocytic Astrocytoma with Leptomeningeal Spread in a Patient with Incontinentia Pigmenti presenting with Unilateral Nystagmus. Pediatric Blood & Cancer. Under Review.
Cole B, Lockwood C, Stasi S, Stevens J, Lee A, Ojemann JG, Astion M, Ellenbogen RG, Leary S. Year one in the molecular era of pediatric brain tumor diagnosis: Application of universal clinical targeted sequencing in an unselected cohort of children. JCO Precision Oncology. Under Review.
Clarke CM, Fok, VT, Gustafson JA, Smyth MD, Timms AE, Frazar CD, Smith JD, Birgfeld CB, Lee A, Ellenbogen RG, Gruss JS, Hopper RA, Cunningham ML. Single Suture Craniosynostosis: Identification of Rare Genetic Variants in Genes Assocaited with Syndromic Forms. American Journal of Medical Genetics. Under Review.
Wenger TL, Lee A, Rosen A, Tully H, Cunningham ML, Hopper RA. A genotype-specific approach for patients with Pfeiffer syndrome due to W290C mutation in FGFR2 is associated with improved neurocognitive functioning and reduced mortality. Genetics in Medicine. Under Review.
Wang A, Ibrahim G, Poliakov A, Wang P, Fallah A, Mathern GW, Buckley R, Collins K, Weil A, Shurtleff H, Warner M, Perez F, Shaw D, Wright J, Saneto, R, Novotny E, Lee A, Browd S, Ojemann JG. Corticospinal Tract Atrophy and Motor fMRI Predict Motor Preservation after Functional Cerebral Hemispherectomy. Journal of Neurosurgery: Pediatrics. In Press.
Mundinger GS, Skladman R, Wenger T, Birgfeld CB, Gruss JS, Lee A, Ellenbogen RG, Hopper RA. Defining and correcting asymmetry in isolated unilateral frontosphenoidal synostosis: differences in orbital shape, facial scoliosis, and skullbase twist compared to unilateral coronal synostosis: Journal of Craniofacial Surgery. In Press.
McEvoy SD, Lee A, Poliakov A, Friedman S, Shaw D, Browd S, Ellenbogen R, Ojemann J, Mac Donald, CL. Longitudinal cerebellar diffusion tensor imaging changes in posterior fossa syndrome. NeuroImage: Clinical 12 (2016) 582-590
Apkon SD, Grady R, Hart S, Lee A, McNalley T, Niswander L, Peterson J, Remley S, Rotenstein D, Shurtleff H, Warner M, and Walker W. Advances in the care of children with spina bifida. Adv Pediatr. 2014 Aug;61(1):33-74
Smith MJ, Wallace AJ, Bennett C, Hasselblatt M, Elert-Dobkowska E, Evans LT, Hickey WF, van Hoff J, Bauer D, Lee A, Hevner RF, Beetz C, du Plessis D, Kilday JP, Newman WG, Evans DG. Germline SMARCE1 mutations predispose to both spinal and cranial clear cell meningiomas. The Journal of pathology. 2014;234(4):436-40. PMID:25143307
Morton RP, Reynolds RM, Ramakrishna R, Levitt MR, Lee A, Browd SR. Response. J Neurosurg Pediatr. 2014 May;13(5):586-7. PMID:24910864

Lee A

, Yarbrough C, Greenberg J, Barber J, Limbrick D, Smyth M. Comparison of posterior fossa decompression with or without duraplasty in children with Type I Chiari malformation. Childs Nerv Syst. 2014 Aug;30(8):1419-24.

Morton R, Reynolds R, Ramakrishna R, Levitt M, Hopper RA, Lee A, Browd S. Low-dose head computed tomography in children: a single institutional experience in pediatric radiation risk reduction: clinical article.

J Neurosurg Pediatr.

2013 Oct;12(4):406-10.

Ojemann JG, Partridge SC, Poliakov AV, Niazi TN, Shaw DW, Ishak GE, Lee A, Browd SR, Geyer JR, Ellenbogen RG. Diffusion tensor imaging of the superior cerebellar peduncle identifies patients with posterior fossa syndrome. Childs Nerv Syst. 2013 Nov;29(11):2071-7.
Titus J, Lee A, Kasasbeh A, Thio L, Stephenson J, Steger-May K, Limbrick D, Smyth M. Health-related quality of life before and after pediatric epilepsy surgery: The influence of seizure outcome on changes in physical functioning and social functioning. Epilepsy Behav. 2013 Jun:27(30:477-83.

Lee A

, Chen ML, Abeshaus S, Poliakov A, Ojemann JG. Posterior fossa tumors and their impact on sleep and ventilatory control: A clinical perspective. Respir Physiol Neurobiol 2013 May 28.

Reynolds MR, Ray WZ, Strom RG, Blackburn SL, Lee A, Park TS. Clinical Outcomes After Selective Dorsal Rhizotomy in an Adult Population. World Neurosurg. 2011 Jan;75(1):138-44.

Lee A

, Van Pelt AE, Smyth MD, Pilgram TK, Govier DP, Woo AS, Kane AA. Comparison of Treatment Practices Between Neurosurgeons and Plastic Surgeons for Infants with Deformational Plagiocephaly. J Neurosurg Pediatr. 2010 Apr;5(4):368-74

Sun S-W, Liang H-F, Xie M, Oyoyo U, Lee, A. Fixation, not death, reduces sensitivity of DTI in detecting optic nerve damage. Neuroimage.2009 Feb 1;44(3):611-9.

Ray WZ, Lee A, Blackburn SL, Lueder GT, Leonard JR. Pseudotumor cerebri following tapered corticosteroid treatment in an 8-month-old infant. J Neurosurg Pediatrics. 2008 Jan;1(1):88-90.
Heartsill L, Richards ML, Arfai N, Lee A, Bingener-Casey J, Schwesinger WH, Sirinek KR. Open Rives-Stoppa ventral hernia repair made simple and successful but not for everyone. Hernia. 2005 May;9(2):162-6. Epub 2005 Feb 19.