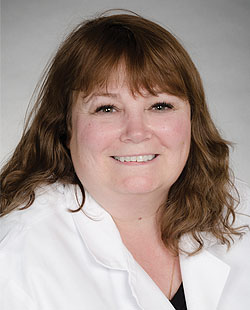 Biography
Joani Marcher, A.R.N.P., is a board-certified family nurse practitioner with the Department of Neurological Surgery at Harborview Medical Center, Seattle. Marcher joined the neurosurgery team in 2010. She is also a member of the Disaster Medical Assistance Team.
Marcher received her Bachelor of Science in Nursing from California State University, Chico; her Masters of Science in Critical Care/Trauma from University of California, San Francisco; and her Family Nurse Practitioner degree from Washington State University, Spokane.
Marcher's clinical interests include neurotrauma, traumatic brain injury, emergency care and critical care. She is also committed to providing quality patient centered care to all her patients. While providing care at San Francisco General Hospital, she was awarded an Innovision Grant to improve patient family education of critical trauma patients.
Personal Interests
In addition to providing care to her patients, Marcher also enjoys reading, swimming, kayaking and participating in disaster medical assistance team activities.
Education
Medical Education
Washington State University
University of California San Francisco School of Nursing