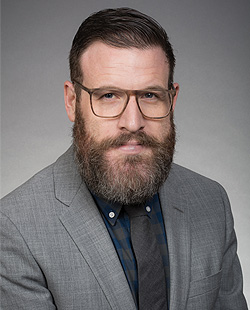 Job Title
Associate Professor of Neurological Surgery
Biography
Dr. Jason S. Hauptman is an associate professor of neurological surgery and a board-certified pediatric neurosurgeon. He is a staff neurosurgeon at both Seattle Childrens Hospital and Harborview Medical Center. He dedicates a significant portion of his clinical practice to the surgical management of epilepsy, both in children (Seattle Children's Hospital) and adults (Harborview Medical Center). For the surgical management of epilepsy, he focuses on the utilization of stereoelectroencephalography (sEEG) including using the ROSA Robotic System, stereotactic laser thermoablation (LITT), neuromodulation such as VNS and RNS, and open surgery such as lobectomy, hemispherectomy, and corpus callostomy. Dr. Hauptman also has a clinical interest in the surgery of tumors involving eloquent cortex, using techniques such as fMRI/rsfMRI planning and awake functional mapping. His research focuses on translation of novel therapeutics to the bedside, including targeted molecular therapies for epilepsy, as well as patient-oriented approaches to improve outcomes in epilepsy and pediatric neurosurgery.
 
Dr. Hauptman received his undergraduate degree from Muhlenberg College. He then received his M.D. from the University of Medicine and Dentistry of New Jersey (now called Rutgers Medical School). He went on to complete his neurological surgery residency at the University of California, Los Angeles under the leadership of Dr. Neil Martin. During this time he also completed a doctoral degree in neuroscience, studying the cellular neurophysiology of epilepsy in cortical dysplasia and tuberous sclerosis. He then went on to complete his pediatric neurosurgery fellowship at the Children's Hospital of Pittsburgh under the guidance of Dr. Ian Pollack. He holds a certificate in clinical trials from the University of Washington.
Clinical Interest
Clinical interests include brain tumors, epilepsy, vascular disorders (arteriovenous malformations, aneurysms, moyamoya disease), hydrocephalus, congenital brain and spine malformations, spine disorders including tethered cord syndrome/spinal cord lipomas and Chiari malformation.
Research Interests
Research interests include pediatric epilepsy surgery and pediatric brain tumors
Personal Interests
Spending time with my family, listening to music, cooking, spending time outdoors
Education
Medical Education
Rutgers New Jersey Medical School
Residency
UCLA David Geffen School of Medicine, Los Angeles
Fellowship
Children's Hospital of Pittsburgh