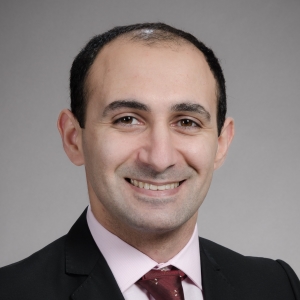 Biography
Dr. Aljuboori received his medical degree from the University of Al-Mustansiriyah College of Medicine in Baghdad, Iraq. He then went on to complete his first year of residency in general surgery at Bronx Lebanon Hospital in 2012. In 2013, he was hired by Harvard Medical School as a postdoctoral research fellow for the 2013-2014 academic year. In 2014, Dr. Aljuboori joined the University of Louisville, where he completed a residency in neurosurgery and graduated in 2020.
Clinical Interest
Dr. Aljuboori is interested in the treatment of cerebrovascular disorders both hemorrhagic (e.g. aneurysms, arteriovenous malformations, and arteriovenous fistulas) and ischemic (e.g. stroke, carotid artery stenosis) types.
Research Interests
Morphometric analyses of cranial base anatomy and the use of artificial intelligence in surgical planning.
Study the effects of the fibrinolytic system on clinical outcomes of subarachnoid hemorrhage patients.
Personal Interests
Mountain hiking, playing soccer and swimming. Also, traveling around the world.
Education
Medical Education
University of Al-Mustansiriyah /College of Medicine (Iraq)
Internship
Bronx Lebanon Hospital
 
Residency
University of Louisville