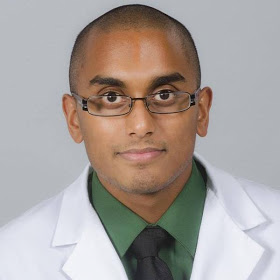 Biography
Sanan was born in Toronto, Ontario but grew up in the suburbs of Pittsburgh. He went to the University of Pittsburgh for his undergraduate education and majored in Neuroscience. While there he worked for the UPMC Department of Neurosurgery in a research capacity, under the mentorship of Dr. Juan Carlos Fernandez Miranda, working on skull base cadaveric dissection and high definition fiber tractography. He then went on to the University of South Florida for medical school where he continued research efforts in the field of Skull Base Surgery, working with Dr. Harry van Loveren, Dr. Siviero Agazzi, Dr. Fernando Vale and Dr. Puya Alikhani. While in medical school he also published in Dr. Greenberg's Handbook of Neurosurgery. He started his neurosurgical training at the University of New Mexico, first as an unaccredited pre-residency fellow and then as a resident, before joining the University of Washington in his R2 year. His personal interests include playing Ice Hockey and following the NHL, a wide variety of outdoor activities (hiking, camping, paddleboarding, skiing, etc...), traveling and playing with his Shiba Inu.  
Select awards and honors 
Undergraduate Honors Thesis: "Bench to Bedside: Awake Craniotomy for Intra-operative Brain Mapping" 
Neurosurgery Editor's Choice and Journal Club Selection: Surgical Management of Trigeminal Neuralgia: Use and Cost Effectiveness from an Analysis of the Medicare Claims Database" 
Clinical Commendations: Given to students receiving the highest clinical evaluations during the 3rd year clerkships 
Steven Specter Award for Outstanding Contributions in Scholarly Achievement and Advancement of Medicine: Awarded to the student in the graduating class who "demonstrated exemplary research achievements in any field of medicine" 
Senior Student Award for Neurology and Neurosurgery Research: Awarded to the student in the graduating class who demonstrates excellence in research in neurology and neurosurgery 
Clinical Interest
Sanan's clinical interests encompass the whole spectrum of neurosurgery including Complex and Minimally Invasive Spine, Brain and Skull Base Neoplasms and Sports Neurology/Concussion.
Research Interests
Sanan's primary academic pursuits are in clinical studies of minimally invasive spine surgical techniques and in the study of adolescent and adult sports concussion.  
Education
BS Neuroscience, 2012, University of Pittsburgh  
Doctor of Medicine, 2016, University of South Florida 
Publications
Labib, Mohamed Ahmed, Daniel M. Prevedello, Juan C. Fernandez-Miranda,

 

Sanan Sivakanthan, Arnau Benet, Victor Morera, Ricardo Carrau, and Amin Kassam. "The Medial Opticocarotid Recess: An Anatomic Study of an Endoscopic "Key Landmark" for the Ventral Cranial Base." Neurosurgery 72 (2013) PMID: 23271222
Jusue-Torres, Ignacio,

 

Sananthan Sivakanthan, Carlos Diogenes Pinheiro-Neto, Paul A. Gardner, Carl H. Snyderman, and Juan C. Fernandez-Miranda.

 

"Chicken Wing Training Model for Endoscopic Microsurgery."

 

Journal of neurological surgery. Part B, Skull base 74, no. 5 (2013): 286. PMID: 24436926

S Sivakanthan,

 

A. Carlson, H van Loveren and S. Agazzi"Surgical clipping of a basilar perforator aneurysm: a case of avoiding perforator sacrifice"

 

Journal of Neurological Surgery part A (2013). PMID: 25111793
Sananthan Sivakanthan,

 

Craig Goldhagen, Christopher Danner MD, Siviero Agazzi MD MBA, "Hearing loss and Chiari Malformation: A clinical pearl", Clinical Neurology and Neurosurgery (2014), PMID: 24908211

Sivakanthan S

, Van Gompel JJ, Alikhani P, van Loveren H, Chen R, Agazzi S.

 

"Surgical Management of Trigeminal Neuralgia: Use and Cost Effectiveness From an Analysis of the Medicare Claims Database". Neurosurgery. (2014) PMID: 24871139.
Mokin M, Kan P,

 

Sivakanthan S,

 

Veznedaroglu E, Binning M, Liebman K, Jethwa P, Turner R, Turk A, Natarajan S, Siddiqui A, Levy E.

 

"Endovascular therapy of wake-up strokes in the modern era of stent retriever thrombectomy"

 

J NeuroIntervent Surg PMID: 25634902
Fernandez-Miranda JC, Yeh F, Meola A

 

Sivakanthan S, "The Non-decussating Pathway of the Dentatorubrothalamic Tract in Humans: Human Connectome Based Tractographic Study and Microdissection Validation"

 

J Neurosurg 2015 OCct 9 PMID: 26452117
Wong R, Del Os Reyes K, Alikhani P,

 

Sivakanthan S, van Loveren H, Agazzi S. "The Subtemporal Approach to Supra Sellar craniopharyngiomas: A new perspective on an old approach" Neurosurgery 2015 Aug 18 PMID: 26287553
Puya Alikhani MD,

 

Sananthan Sivakanthan BS, Harry van Loveren MD and Siviero Agazzi MD MBA.

 

"Paraclival or cavernous ICA: one segment but two names"

 

J Neurol Surg Part B
MokinM,GurerroW,RoseD,SivakanthanS."ASPECTSdecayduringinter-facilitytransferin patients with large vessel occlusion strokes" J Neurointerv Surg 2016 Apr. PMID: 27106593
MokinM,SonigA,SivakanthanS,RenZ,ElijovichL,ArthurA,GoyalN,KanP,DuckworthE,Veznedaroglu E, Binning MJ, Liebman KM, Rao V, Turner RD 4th, Turk AS, Baxter BW, Dabus G, Linfante I, Snyder KV, Levy EI, Siddiqui AH. "Clinical and Procedural Predictors of Outcomes From the Endovascular Treatment of Posterior Circulation Strokes" Stroke. 2016 Mar;47(3):782-8. PMID: 26888533

SivakanthanS,

NealE,MurtaghR,ValeF."TheevolvingutilityofDiffusionTensorTractographyinthe
Surgical Management of Temporal Lobe Epilepsy: A review. " Acta Neurochir 2016 Nov PMID: 27566714
Ashour R, Reigtens S, Park M,

 

Sivakanthan S,

 

van Loveren H, Agazzi S. "Intraoperative MRI in Skull Base Surgery: a review of 71 consecutive cases" World Neurosurgery 2016 Sept PMID: 27319315

SivakanthanS

,OchalskiP,SchirdaC,EnghJA."Assessingthestructuralfootprintofminimallyinvasive brain cannulation on cerebral white matter: a cadaveric DTI model"J Neurol Surg A Cent Eur Neurosurg 2018 May PMID: 29041032
WongR,CopelandWJacobJ,SivakanthanS,vanLoverenH,LinkM,AgazziS."AnteriorExtensionof Tumor is as Important as Tumor Size to Facial Nerve Outcome and Extent of Resection for Vestibular Schwannomas" J Neurol Surg B Skull Base 2017 Dec PMID: 29134166
16. Alikhani P,SivakanthanS,AshourR,TaborM,vanLoverenH,AgazziS."Endoscopicendonasal resection of a medullary cavernoma: a novel case." Br J Neurosurg 2017 Nov PMID: 29191060