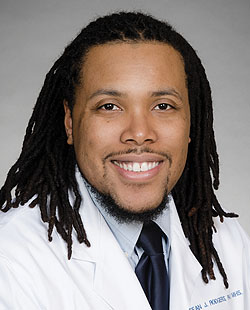 Biography
DeSean J. Rodgers, PA-C, is a certified neurohospitalist physician assistant for the Department of Neurosurgery at Harborview Medical Center, Seattle, Washington.
Rodgers completed his master's level physician assistant training at Duke University, Durham, North Carolina. He also earned a Master of Public Health from University of Texas Health Science Center, Houston, and is a veteran of the U.S. Army.
Rodgers' clinical interests include genomics, neurology, endocrinology, neuroendocrine tumors and prostate cancer. His approach to patient care is about earning trust and working with his patients to find a treatment plan that is suitable to their wishes and needs. He believes it is his responsibility to educate them and their families on functional capacity, neurological healing, and cognitive recovery between follow-up appointments.
Personal Interests
In addition to providing care to his patients, Rodgers enjoys family time, travel, reading and investing.
Education
Medical Education
Duke University Physician Assistant Program