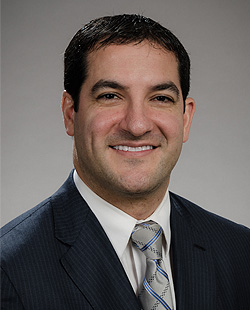 Job Title
Assistant Professor of Neurological Surgery
Biography
Dr. Saigal is an Assistant Professor of Neurological Surgery at UW. In addition to general neurosurgery, he specializes in complex spine surgery, including spinal deformity, spinal tumors, minimally invasive techniques, spinal cord injury, and neurotrauma. 

Dr. Saigal completed neurosurgery residency at the University of California, San Francisco (UCSF). There he trained with international leaders in spinal deformity and spinal tumors. He then completed an orthopedic spine deformity fellowship at Scripps and the San Diego Spine Foundation, gaining expertise in less invasive techniques for spinal deformity. He completed a second spine fellowship at the University of Miami, gaining further expertise in minimally invasive spine surgery, including endoscopic fusion. 

Prior to UCSF, Dr. Saigal completed a PhD in medical engineering at the Harvard-MIT Division of Health Sciences and Technology and an MD at the Tufts University School of Medicine. He also has a B.Sc. with highest honors in electrical engineering from Georgia Tech and a M.Sc. in biomedical engineering from Aalborg University in Denmark. He is the recipient of numerous awards for research, teaching, and leadership, including the Boldrey Young Investigator Award, UCSF Neurosurgery Research and Rosegay awards, National Science Foundation Graduate Research Fellowship, and Whitaker Graduate Research Fellowship.
Clinical Interest
Spinal deformity; scoliosis; spinal tumors; spinal cord injury; spine trauma; traumatic brain injury; degenerative spine disease; lumbar stenosis; cervical stenosis; cervical myelopathy
Research Interests
Dr. Saigal is a clinician-scientist in the Department of Neurological Surgery. In addition to clinical research in spine surgery and neurotrauma, he conducts pre-clinical translational research. His laboratory focuses on use of biomaterials and drug delivery systems for treatment of spinal cord injury and traumatic brain injury.
Personal Interests
Martial arts, football, snowboarding, and travel
Education
Medical Education
Tufts University School of Medicine
Internship
University of California, San Francisco
Residency
University of California, San Francisco
Fellowship
San Diego Spine Foundation, Scripps
University of Miami
Board Certification
American Board of Neurological Surgery - 2020
Publications
Long DR, Bryson-Cahn C, Pergamit R, Tavolaro C, Saigal R, Chan JD, Lynch J.  "Anatomic Gradients in the Microbiology of Spinal Fusion Surgical Site Infection and Resistance to Surgical Antimicrobial Prophylaxis," accepted to Spine, 2020.

Hawryluk GJ, Nielson JL, Huie J, Zimmermann LL, Saigal R, Ding Q, Hirschi R, Zeiler FA, Ferguson A, Manley G..  "Analysis of Normal High-Frequency Intracranial Pressure Values and Treatment Threshold in Neurocritical Care Patients: Insights Into Normal Values and a Potential Treatment Threshold," JAMA Neurology, 2020 Jun 15. doi: 10.1001/jamaneurol.2020.1310. PMID: 32539101

Saigal R, Mundis G, Eastlack R, Bagheri A, Nguyen S, Brown D, Bagheri R, Akbarnia B. "Anterior Column Realignment (ACR): A Detailed Analysis of Neurologic Risk and Radiographic Outcomes," Neurosurgery. 2020 Apr 16:nyaa064. PMID: 32297951

Oztek MA, Mayr NA, Mossa-Basha M, Nyflot M, Sponseller PA, Wu W, Hofstetter CP, Saigal R, Bowen SR, Hippe DS, Yuh WT, Stewart RD, Lo SS. "The Dancing Cord: Inherent Spinal Cord Motion And Its Effect On Cord Dose In Spine Stereotactic Body Radiation Therapy," accepted to Neurosurgery, 2020.

Saigal R, Patel V, Chou D. "Evaluation and Treatment of Scheuermann's Kyphosis," Youmans and Winn Neurological Surgery, 8th Edition, Elsevier, Philadelphia, PA, 2020.

Birk J, Saigal R, Kliot M. "Cellular and Molecular Mechanisms Mediating Injury and Recovery," Youmans and Winn Neurological Surgery, 8th Edition, Elsevier, Philadelphia, PA, 2020.

Hwang L, Okoye CC, Patel RB, Sahgal A, Foote M, Redmond KJ, Ofstetter C, Saigal R, Mossa-Basha M, Yuh W, Mayr NA, Chao ST, Chang EL, Lo SS. "Stereotactic Body Radiotherapy for Benign Spinal Tumors: Meningiomas, Schwannomas, and Neurofibromas," Journal of Radiosurgery and SBRT. 2019. PMID: 31998537.

Dunne EM, Liu M, Hofstetter C, Saigal R, Lo SS. "Commentary: Local Control and Toxicity of Multilevel Spine Stereotactic Body Radiotherapy. Neurosurgery. 2019. Epub 2019/10/20. doi: 10.1093/neuros/nyz449. PMID: 31628748.

Vellayappan B, Kumar N, Foote M, Hofstetter CP, Saigal R, Chao ST, Lo SS. Commentary: Postoperative Stereotactic Body Radiotherapy for Spinal Metastases and the Impact of Epidural Disease Grade. Neurosurgery. 2019 Oct 9.  PMID: 31595964

Schaub SK, Tseng YD, Chang EL, Sahgal A, Saigal R, Hofstetter CP, Foote M, Ko AL, Yuh WTC, Mossa-Basha M, Mayr NA, Lo SS. Strategies to Mitigate Toxicities From Stereotactic Body Radiation Therapy for Spine Metastases. Neurosurgery. 2019 Jul 2. PMID: 31264703

Carr DA, Saigal R, Zhang F, Bransford R, Bellabarba C, Dagal A. "Enhanced perioperative care and decreased cost and length of stay after elective major spinal surgery," Neurosurg Focus. 2019 Apr 1;46(4):E5. PMID: 30933922.

Hirschi R, Hawryluk GJ, Nielson JL, Huie J, Zimmermann LL, Saigal R, Ding Q, Ferguson AR, & Manley G. "Analysis of high-frequency PbtO2 measures in traumatic brain injury: insights into the treatment threshold," Journal of Neurosurgery. 2018 Oct 12. PMID: 30497191.

Saigal R, Gary MF, Levi AD.  "Acute Treatment of Patients with Spinal Cord Injury," Herkowitz-Rothman and Simeone:  The Spine. 7th Edition.  Elsevier Saunders, Philadelphia, PA, 2017.

Catapano JS, John Hawryluk GW, Whetstone W, Saigal R, Ferguson A, Talbott J, Bresnahan J, Dhall S, Pan J, Beattie M, Manley G. "Higher Mean Arterial Pressure Values Correlate With Neurological Improvement in Patients With Initially Complete Spinal Cord Injuries," World Neurosurg. 2016 Dec;96:72-79. PMID: 27565460

Readdy WJ, Saigal R, Whetstone WD, Mefford AN, Ferguson AR, Talbott JF, Inoue T, Bresnahan JC, Beattie MS, Pan J, Manley GT, Dhall SS. "Failure of Mean Arterial Pressure Goals to Improve Outcomes Following Penetrating Spinal Cord Injury." Neurosurgery. 2016 Nov;79(5):708-714. PMID: 27759678

Osorio J, Saigal R, Chou D. "Neurologic Complications of Common Spine Operations," Benzel's Spine Surgery, 4th Edition, Elsevier, Philadelphia, PA, 2017.

Saigal R, Berger M. "Concussion: Long Term Sequelae – The Controversy," accepted to Spine Injuries in Athletes, Wolters Kluwer, Philadelphia, PA, 2016.

Readdy, WJ, Saigal R, Whetstone W, Ferguson AR, Talbott JF, Inoue T, Bresnahan JC, Beattie MS, Pan J, Manley GT, Dhall SS. "Neurologic Outcomes and Complications in the Context of Vasopressor Administration for Penetrating Spinal Cord Injuries," Neurosurgery. 2016 May 3. [Epub ahead of print]. PMID: 27145343

Saigal R, Mundis GM, Eastlack R, Uribe J, Phillips F, Akbarnia BA. "Anterior Column Realignment (ACR) in adult sagittal deformity correction: Technique and review of the literature," Spine. 2016 Apr;41 Suppl 8:S66-73. PMID: 26839994

Saigal R, Chou D. "Direct Fixation of Odontoid Fractures," Handbook of Spine Surgery, 2nd Edition, Thieme, New York, NY, 2016.

Saigal R, Lau D, Chou D. "Evaluation and Treatment of Scheuermann's Kyphosis," Youmans and Winn Neurological Surgery, 7th Edition, Elsevier, Philadelphia, PA, 2016.

Saigal R, Birk J, Kliot M. "Cellular and Molecular Mechanisms Mediating Injury and Recovery," Youmans and Winn Neurological Surgery, 7th Edition, Elsevier, Philadelphia, PA, 2016.

Readdy, WJ, Whetstone W, Ferguson AR, Talbott JF, Inoue T, Saigal R, Bresnahan JC, Beattie MS, Pan J, Manley GT, Dhall SS. "Complications and Outcomes of Vasopressor Usage in Acute Traumatic Central Cord Syndrome," J Neurosurg Spine. 2015 Jul 31:1-7. PMID: 26230417

Saigal R, Clark AJ, Scheer JK, Shaffrey CI, Smith JS, Bess S, Mummaneni PV, McCarthy I, Hart R, Obrien MF, Hostin RA, Kebaish KM, Klineberg EO, Gupta M, Lafage V, Deviren V, Schwab F, Ames CP. "Adult deformity surgery patients recall fewer than 50% of the risks discussed in the informed consent process preoperatively and the recall rate worsens significantly in the postoperative period," Spine. 2015 Jul 15;40(14):1079-85. PMID: 25946720

Hawryluk GWJ, Whetstone W, Saigal R, Ferguson A, Talbott J, Bresnahan J, Dhall SS, Pan J, Beattie M, Manley GT. "Mean Arterial Blood Pressure Correlates With Neurological Recovery Following Human Spinal Cord Injury: Analysis of High Frequency Physiologic Data," Journal of Neurotrauma, 2015 Feb 10. PMID: 25669633

Talbott JF, Whetstone W, Readdy, WJ, Ferguson AR, Bresnahan JC, Saigal R, Hawryluk G, Beattie MS, Mabray M, Pan J, Manley GT, Dhall SS. "The Brain and Spine Injury Center (BASIC) Spinal Cord Injury (SCI) Score: A Novel, Simple, and Reliable Method for Assessing Severity of Acute Cervical SCI Using Axial T2-weighted MRI," J Neurosurg Spine. 2015 Oct;23(4):495-504. PMID: 26161519.

Saigal R, Berger M. "The long-term effects of repetitive mild head injuries in sports," Neurosurgery, 2014 Oct;75 Suppl 4:S149-S155.  PMID: 25232880

Saigal R, Batjer H, Ellenbogen R, Berger M. "Return to play for neurosurgical patients," World Neurosurgery, 2014 Sept - Oct; 82(3-4):485-491. doi: 10.1016/j.wneu.2014.06.043. PMID: 25043128.

Saigal R, Lau D, Wadhwa R, Le H, Khashan M, Chou D, Berven S, Mummaneni PV. "Unilateral versus bilateral iliac screws for spinopelvic fixation: are two screws better than one?" Neurosurg Focus. 2014 May;36(5):E10.  PMID: 24785475

Saigal R, Chou D. "Spinal reconstruction and fixation/fusion" in AOSpine Master Series: Spinal Metastasis, Eds: Gokaslan, Fischer, Boriani.  AO Foundation, Switzerland, 2014.

Saigal R, Wadhwa R, Mummaneni P, Chou D.  "Minimally invasive extracavitary transpedicular corpectomy for the management of spinal tumors," Neurosurg Clin N Am, 2014 Apr;25(2):305-315. doi: 10.1016/j.nec.2013.12.008. PMID: 24703448.

Saigal R, Lu D, Deng D, Chou D.  "Conversion of high to mid-sacral amputation via S2 nerve preservation during partial S2 sacrectomy for chordoma," Journal of Neurosurgery: Spine, 2014 Apr;20(4):421-9. doi: 10.3171/2014.1.SPINE12652. PMID: 24527829

Saigal R, Chou D. "Posterior approaches for minimally invasive thoracic decompression and stabilization," in Minimally Invasive Spine Surgery-Techniques, Evidence, and Controversies, Eds: Hartl, Korge.  AO Foundation, Switzerland, 2013.

Saigal R, Benet A, Hoffman W, Lustig LR, Cheung SW, McDermott M. "Rotational pericranial flap for repair of refractory posterior fossa pseudomeningocele." Cureus, 2014; 6(1): e153. doi:10.7759/cureus.153.

Han S, Saigal R, Rolston J, Cheng J, Mistry R, McDermott M, Berger M.  "Targeted reduction in neurosurgical laboratory utilization: resident led effort at a single academic institution," J Neurosurg. 2014 Jan;120(1):173-7. doi: 10.3171/2013.8.JNS13512. PMID: 24125592

Saigal R, Cimetta E, Tandon N, Zhou J, Langer R, Young M, Vunjak-Novakovic G, Redenti S.  "Electrical stimulation via a biocompatible conductive polymer directs retinal progenitor cell differentiation," Conf Proc IEEE Eng Med Biol Soc. 2013 Jul; 2013:1627-31. doi: 10.1109/EMBC.2013.6609828. PMID: 24110015

McCarthy IM, Hostin RA, O'Brien MF, Fleming NS, Ogola G, Kudyakov R, Richter KM, Saigal R, Berven SH, Ames CP. "Analysis of the direct cost of surgery for four diagnostic categories of adult spinal deformity," Spine J. 2013 Dec 1;13(12):1843-8. doi: 10.1016/j.spinee.2013.06.048. PMID: 2431555 

McCarthy I, Hostin R, O'Brien, Ogola G, Kudyakov R, Richter KM, Saigal R, Ames CP:  "Cost-effectiveness of surgical treatment for adult spinal deformity: a comparison of dollars per quality of life improvement across health domains," Spine Deformity, 2013 Jul;2(4):293–298. doi:10.1016/j.jspd.2013.05.007

McCarthy I, Hostin R, O'Brien, Saigal R, Ames C.  "Health economic analysis of adult deformity surgery," Neurosurg Clin N Am. 2013 Apr;24(2):293-304.  doi: 10.1016/j.nec.2012.12.005. PMID: 23561565

Saigal R, Nakagawa A, Manley GT. "Role of decompressive hemicraniectomy in traumatic brain injury," Evidence for Neurosurgery, Editors: Benzel, Ghogawala, Krishnaney, Steinmetz, Batjer. TFM Publishing, Shrewsbury, England, 2012.

George PM, Saigal R, Moore M, LaVan DA, Marini R, Selig M, Makhni M, Burdick JA, Langer R, Kohane D. "Three-dimensional conductive constructs for nerve regeneration," Journal of Biomedical Materials Research: Part A, 2009 Nov;91(2):519-27. doi: 10.1002/jbm.a.32226. PMID: 18985787

Park H, Bhalla R, Saigal R, Radisic M, Watson N, Langer R, Vunjak-Novakovic G.  "Effects of electrical stimulation in C2C12 muscle constructs," Journal of Tissue Engineering and Regenerative Medicine. 2008 Jul;2(5):279-87. doi: 10.1002/term.93. PMID: 18512267

Luo Y, Engelmayr G, Karp JM, da Silva Ferreira L, Auguste DT, Saigal R, Langer R. "Three-dimensional scaffolds," in Principles of Tissue Engineering, 3rd Edition. Editor: Robert Lanza, Academic Press, 2006.

Guevremont L, Renzi CG, Norton JA, Kowalczewski J, Saigal R, Mushahwar VK. "Locomotor-related networks in the lumbosacral enlargement of the adult spinal cat: activation through intraspinal microstimulation," IEEE Trans Neural Syst Rehabil Eng. 2006 Sep;14(3). PMID: 17009485

Mushahwar VK, Guevremont L, Saigal R. "Could cortical signals control intraspinal stimulators? A theoretical evaluation," IEEE Trans Neural Syst Rehabil Eng. 2006 Jun;14(2):198-201. PMID: 16792293

Floeter MK, Zhai P, Saigal R, Kim Y, Statland J. "Motor neuron firing dysfunction in spastic patients with primary lateral sclerosis," J Neurophysiol. 2005 Aug;94(2):919-27. PMID: 15829597

Saigal R, Renzi CG, Mushahwar VK. "Intraspinal microstimulation generates functional movements after spinal-cord injury," IEEE Trans Neural Syst Rehabil Eng. 2004 Dec;12(4):430-40. PMID: 15614999