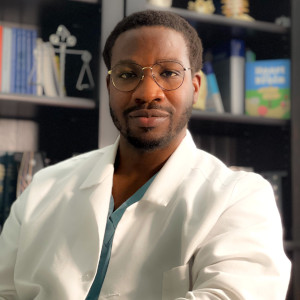 Biography
Dr. Ogunlade completed his undergraduate studies and medical school training in 2014 at Nova Southeastern University in Ft. Lauderdale Florida. He then completed his neurosurgery residency in Moreno Valley California at Riverside University Health Systems Medical Center in 2021.
Clinical Interest
Cranial and spinal trauma; minimally invasive and endoscopic spine surgery
Research Interests
Clinical outcomes and socioeconomic impact research
Personal Interests
Photography, videography, travel, sports, spending time with family and friends
Publications
Ogunlade J

, Wiginton JG, Ghanchi H, et al. Efficacy of platelet transfusion in the management of acute subdural hematoma. Clin Neurol Neurosurg. 2018;174. doi:10.1016/j.clineuro.2018.09.021 [original work]

Ogunlade J

, Elia C, Duong J, et al. Severe Traumatic Brain Injury Requiring Surgical Decompression in the Young Adult: Factors Influencing Morbidity and Mortality – A Retrospective Analysis. Cureus. 2018;10(7). doi:10.7759/cureus.3042 [original work]

Ogunlade J

, Wiginton JG, Elia C, Odell T, Rao SC. Primary Spinal Astrocytomas: A Literature Review. Cureus. 2019;11(7):1-9. doi:10.7759/cureus.5247[original work]

Brazdzionis J, Ogunlade J, Elia C, Wacker MR, Menoni R, Miulli DE. Effectiveness of Method of Repair of Incidental Thoracic and Lumbar Durotomies: A Comparison of Direct Versus Indirect Repair. Cureus. 2019;11(7). doi:10.7759/cureus.5224 [original work]
Elia CJ, Arvind V, Brazdzionis J, von Glinski A, Schell BA, Pierre CA, Ogunlade J, Chapman JR, Oskouian RJ. 90-day Readmission Rates for Single Level Anterior Lumbosacral Interbody Fusion: A Nationwide Readmissions Database Analysis. Spine (Phila Pa 1976). 2020 Jul 15;45(14):E864- E870. doi: 10.1097/BRS.0000000000003443. PMID: 32097276. [original work]

Ogunlade J

, Qandah N, Miulli DE. Neuropharmacology. In: Javed Siddiqi, ed. Neurosurgical Intensive Care. 2nd ed. Thieme Medical Publishers; 2017:248-275.

Ogunlade J

, Miulli DE, Taveau J. 4 Diagnostic Laboratory Studies in the ICU Patient: What, When, and How Often? 2nd ed. (Javed Siddiqi, ed.). Thieme Medical Publishers; 2017.

Ogunlade J

, Cortez V. Practical Neurosurgery. In: Jason Seibly, ed. Practical Neurosurgery. Amazon Digital Services LLC; 2018:11-16.