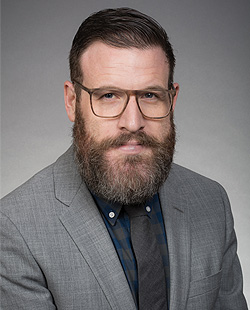 Biography
Dr. Jason S. Hauptman is an assistant professor of neurological surgery and an attending neurosurgeon at Seattle Children's Hospital. Dr. Hauptman received his undergraduate degree from Muhlenberg College. He then received his M.D. from the University of Medicine and Dentistry of New Jersey (now called Rutgers Medical School). He went on to complete his neurological surgery residency at the University of California, Los Angeles under the leadership of Dr. Neil Martin. During this time he also completed a doctoral degree in neuroscience, studying the cellular neurophysiology of epilepsy in cortical dysplasia and tuberous sclerosis. He then went on to complete his pediatric neurosurgery fellowship at the Children's Hospital of Pittsburgh under the guidance of Dr. Ian Pollack.

Prior to joining the faculty at the University of Washington, he was regional pediatric neurosurgeon for the Southern California Permanente Medical Group, a high volume neurosurgical practice in Los Angeles. During this time he also served as regional epilepsy surgeon, providing surgical care for both adults and children with medically intractable and complex epilepsy. During his time at SCPMG he helped to establish the pediatric surgical epilepsy program and the cerebral palsy/spasticity program, as well as played an active role on the complex craniofacial team. 
Clinical Interest
Clinical interests include brain tumors, epilepsy, vascular disorders (arteriovenous malformations, aneurysms, moyamoya disease), hydrocephalus, congenital brain and spine malformations, spine disorders including tethered cord syndrome/spinal cord lipomas and Chiari malformation.
Research Interests
Research interests include pediatric epilepsy surgery and pediatric brain tumors
Personal Interests
Spending time with my family, listening to music, cooking, spending time outdoors
Education
Medical Education
Rutgers New Jersey Medical School
Residency
UCLA David Geffen School of Medicine, Los Angeles
Fellowship
Children's Hospital of Pittsburgh
Publications
Ivan Y, Hauptman J, Marin JR

Abdominal Cerebrospinal Fluid Pseudocyst Diagnosed by Point-of-Care Ultrasound.
27253360 Pediatric emergency care , 2016 June : 32(6)408-9

Kim W, Chivukula S, Hauptman J, Pouratian N

Diffusion Tensor Imaging-Based Thalamic Segmentation in Deep Brain Stimulation for Chronic Pain Conditions.
27537848 Stereotactic and functional neurosurgery , 2016 : 94(4)225-234 PMCID: PMC5083182

Gandhoke GS, Hauptman JS, Salvetti DJ, Weiner GM, Panigrahy A, Yilmaz S, Pollack IF

Transosseous cerebrospinal fluid fistula 14 years after Chiari decompression: presentation and management.
25978535 Journal of neurosurgery. Pediatrics , 2015 Aug. : 16(2)146-9

Hauptman JS, Dadour A, Oh T, Baca CB, Vickrey BG, Vassar S, Sankar R, Salamon N, Vinters HV, Mathern GW

Time to pediatric epilepsy surgery is longer and developmental outcomes lower for government compared with private insurance.
23615092 Neurosurgery , 2013 July : 73(1)152-7

Baca CB, Vickrey BG, Vassar S, Hauptman JS, Dadour A, Oh T, Salamon N, Vinters HV, Sankar R, Mathern GW

Time to pediatric epilepsy surgery is related to disease severity and nonclinical factors.
23468549 Neurology , 2013 Mar. 26 : 80(13)1231-9 PMCID: PMC3691779

Hauptman JS, Dadour A, Oh T, Baca CB, Vickrey BG, Vassar SD, Sankar R, Salamon N, Vinters HV, Mathern GW

Sociodemographic changes over 25 years of pediatric epilepsy surgery at UCLA.
23331214 Journal of neurosurgery. Pediatrics , 2013 Mar. : 11(3)250-5 PMCID: PMC3832187

Lall RR, Lall RR, Hauptman JS, Munoz C, Cybulski GR, Koski T, Ganju A, Fessler RG, Smith ZA

Intraoperative neurophysiological monitoring in spine surgery: indications, efficacy, and role of the preoperative checklist.
23116090 Neurosurgical focus , 2012 Nov. : 33(5)E10

Hauptman JS, Pedram K, Sison CA, Sankar R, Salamon N, Vinters HV, Mathern GW

Pediatric epilepsy surgery: long-term 5-year seizure remission and medication use.
22895408 Neurosurgery , 2012 Nov. : 71(5)985-93

Hauptman JS, Mathern GW

Surgical treatment of epilepsy associated with cortical dysplasia: 2012 update.
22946727 Epilepsia , 2012 Sept. : 53 Suppl 498-104
Hauptman JS, Salamon N, Mathern GW

Neuroimaging in the definition and organization of the epilepsies: we're not there yet.
22765501 Epilepsia , 2012 July : 53 Suppl 222-7 PMCID: PMC3397398

Hauptman JS, Barkhoudarian G, Safaee M, Gorgulho A, Tenn S, Agazaryan N, Selch M, De Salles AA

Challenges in linear accelerator radiotherapy for chordomas and chondrosarcomas of the skull base: focus on complications.
22137019 International journal of radiation oncology, biology, physics , 2012 June 1 : 83(2)542-51

Hauptman JS, Mathern GW

Vagal nerve stimulation for pharmacoresistant epilepsy in children.
23230532 Surgical neurology international , 2012 : 3(Suppl 4)S269-74 PMCID: PMC3514916

Everson R, Hauptman JS

From the bench to the bedside: Brain-machine interfaces in spinal cord injury, the blood-brain barrier, and neurodegeneration, using the hippocampus to improve cognition, metabolism, and epilepsy, and understanding axonal death.
23087824 Surgical neurology international , 2012 : 3108 PMCID: PMC3475876

Hauptman JS, Mathern GW

Epilepsy neurosurgery in children.
22939072 Handbook of clinical neurology , 2012 : 108881-95

Chow DS, Hauptman JS, Wong TT, Gonzalez NR, Martin NA, Lignelli AA, Itagaki MW

Changes in stroke research productivity: A global perspective.
22439118 Surgical neurology international , 2012 : 327 PMCID: PMC3307235

Cepeda C, André VM, Hauptman JS, Yamazaki I, Huynh MN, Chang JW, Chen JY, Fisher RS, Vinters HV, Levine MS, Mathern GW

Enhanced GABAergic network and receptor function in pediatric cortical dysplasia Type IIB compared with Tuberous Sclerosis Complex.
21889982 Neurobiology of disease , 2012 Jan. : 45(1)310-21 PMCID: PMC3225687

Hauptman JS, Chow DS, Martin NA, Itagaki MW

Research productivity in neurosurgery: trends in globalization, scientific focus, and funding.
21962030 Journal of neurosurgery , 2011 Dec. : 115(6)1262-72

Hauptman JS, Moftakhar P, Dadour A, Malkasian D, Martin NA

Advances in the biology of cerebral cavernous malformations.
20975979 Surgical neurology international , 2010 Oct. 11 : 163 PMCID: PMC2958334

Cepeda C, André VM, Yamazaki I, Hauptman JS, Chen JY, Vinters HV, Mathern GW, Levine MS

Comparative study of cellular and synaptic abnormalities in brain tissue samples from pediatric tuberous sclerosis complex and cortical dysplasia type II.
20618424 Epilepsia , 2010 July : 51 Suppl 3160-5 PMCID: PMC2909023

He W, Hauptman J, Pasupuleti L, Setton A, Farrow MG, Kasper L, Karimi R, Gandhi CD, Catrambone JE, Prestigiacomo CJ

True posterior communicating artery aneurysms: are they more prone to rupture? A biomorphometric analysis.
19747044 Journal of neurosurgery , 2010 Mar. : 112(3)611-5

Lerner JT, Salamon N, Hauptman JS, Velasco TR, Hemb M, Wu JY, Sankar R, Donald Shields W, Engel J Jr, Fried I, Cepeda C, Andre VM, Levine MS, Miyata H, Yong WH, Vinters HV, Mathern GW

Assessment and surgical outcomes for mild type I and severe type II cortical dysplasia: a critical review and the UCLA experience.
19175385 Epilepsia , 2009 June : 50(6)1310-35

Moftakhar P, Hauptman JS, Malkasian D, Martin NA

Cerebral arteriovenous malformations. Part 2: physiology.
19408989 Neurosurgical focus , 2009 May : 26(5)E11

Moftakhar P, Hauptman JS, Malkasian D, Martin NA

Cerebral arteriovenous malformations. Part 1: cellular and molecular biology.
19408988 Neurosurgical focus , 2009 May : 26(5)E10

Hauptman JS, DeSalles AA, Espinoza R, Sedrak M, Ishida W

Potential surgical targets for deep brain stimulation in treatment-resistant depression.
18590380 Neurosurgical focus , 2008 : 25(1)E3