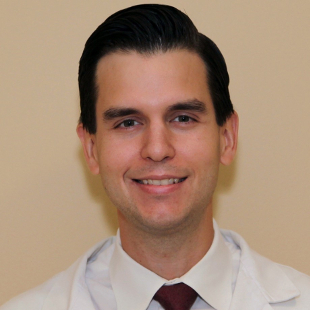 Biography
Guil was born in Rio de Janeiro, Brazil and grew up in New Jersey. He studied biomedical engineering as an undergraduate at Johns Hopkins University. During his time in Baltimore, he served as a design team leader and developed a mobile phone-integrated tool for anemia screening in developing countries, culminating in a U.S. patent and a seed grant from the Gates Foundation. He also worked in a wet lab studying the mechanisms of endothelial cell dysfunction during aging and atherosclerosis. Since he was a medical student at Jefferson, he has immersed himself in cerebrovascular neurosurgery research studying the outcomes, techniques, and complications of both endovascular and open surgical options for aneurysms. He has also performed functional neurosurgery research, analyzing susceptibility weighted MRI imaging in electrode trajectory planning for deep brain stimulation and stereotactic EEG. Guil enjoys his time off in the outdoors skiing, hiking, cycling, and running. His other hobbies include traveling, languages, photography, cooking, and spending quality time with his family and friends. He speaks Portuguese and Italian. 
Select awards and honors:
Gold Humanism Honors Society; 2016 
Hobart Amory Hare Medical Honor Society; 2015 
Bill & Melinda Gates Foundation Seed Grant, Saving Lives at Birth: A Grand Challenge for Development Competition; 2012 
Clinical Interest
Cerebrovascular surgery 
Endovascular surgery 
Subarachnoid hemorrhage management
Trauma  
Education
Bachelor of Science, Johns Hopkins University; 2012 
Master of Science, Georgetown University; 2013 
Doctor of Medicine, Thomas Jefferson University; 2017 
Publications
Barros G, McGrath L, Gelfenbeyn M. Sacroiliac Joint Dysfunction in Patients With Low Back Pain. Federal Practitioner. 2019 August; 36(8):370-375. 
Barros G, Feroze AH, Sen R, et al. Predictors of preoperative endovascular embolization of meningiomas: subanalysis of anatomic location and arterial supply. Journal of NeuroInterventional Surgery. Published Online First: 15 July 2019. doi:10.1136/neurintsurg-2019-015129 
Mouchtouris N, Lang MJ, Barkley K, Barros G, et al. Predictors of hospital-associated complications prolonging ICU stay in patients with low-grade aneurysmal subarachnoid hemorrhage. Journal of Neurosurgery. 2019 May 3:1-7. doi: 10.3171/2019.1.JNS182394. 
Barros G, Levitt MR, Kim LJ. Endovascular Embolization of Torcular Dural AV Fistula. Congress of Neurological Surgeons Nexus. 2018 Dec. Published online, cnsnexus.crowdwisdomhq.net/nexus/article/13829. 
Sweid A, Atallah E, Herial N, Saad H, Mouchtouris N, Barros G, et al. Pipeline-assisted coiling versus pipeline in flow diversion treatment of intracranial aneurysms. Journal of Clinical Neuroscience. 2018 Dec; 58:20-24. 
Barros G, Lang MJ, Mouchtouris N, et al. Impact of Trajectory Planning with Susceptibility-Weighted Imaging for Intracranial Electrode Implantation. Operative Neurosurgery. 2018 July; 15(1):60-65.  
Chalouhi N, Daou B, Barros G, et al. Matched Comparison of Flow Diversion and Coiling in Small, Noncomplex Intracranial Aneurysms. Neurosurgery. 2017. 
Daou B, Chalouhi N, Tjoumakaris S, Hasan D, Barros G, et al. Alternative access for treatment of cerebrovascular diseases. Clinical Neurology and Neurosurgery. 2016; 245: 89-95.  
Daou B, Chalouhi N, Starke RM, Barros G, et al. Clipping of previously coiled cerebral aneurysms: efficacy, safety, and predictors in a cohort of 111 patients. Journal of Neurosurgery. 2016:1-7. 
Chalouhi N, Daou B, Okabe T, Starke RM, Dalyai R, Bovenzi CD, Anderson EC, Barros G, et al. Beta-blocker therapy and impact on outcome after aneurysmal subarachnoid hemorrhage: a cohort study. Journal of Neurosurgery. 2016;125:730-736. 
Daou B, Starke RM, Chalouhi N, Barros G,  et al. P2Y12 reaction units: effect on hemorrhagic and thromboembolic complications in patients with cerebral aneurysms treated with the Pipeline Embolization Device. Neurosurgery. 2015;78:27-33. 
Chalouhi N, Polifka A, Daou B, Kung D, Barros G, et al. In-pipeline stenosis: incidence, predictors, and clinical outcomes. Neurosurgery. 2015;77:875-879. 
Barros G, Krupa K, Krupa K, et al. A rare case of a systemic non-Langerhans histiocytosis presenting with diabetes insipidus and a tentorial mass. Jefferson Hospital of Neuroscience Journal. 2015;10(1): Article 3.  
Zanaty M, Chalouhi N, Barros G, et al. Flow-diversion for ophthalmic segment aneurysms. Neurosurgery. 2015;76(3):286-9. 
Chalouhi SE, Tarutis J, Barros G, et al. Risk of postpartum hemorrhage among Native American women. Int J Gynaecol Obstet. 2015;131(3):269-72. 
Zanaty M, Barros G, Chalouhi N, et al. Update on intra-arterial chemotherapy for retinoblastoma. Scientific World Journal. 2014;2014:869604. 
Zanaty M, Chalouhi N, Starke RM, Barros G, et al. Flow diversion versus conventional treatment for carotid cavernous aneurysms. Stroke. 2014; 45:2656-2661. 
Barros G, Chen W, Chen GM, Greenbaum NL, Doong JC, Yin D, Oh PJ, Acharya S. A non-invasive bio-fluid detector and portable sensor-transmitter-receiver system. United States Patent Application 20150164396, PCT/US2013/034361, filed March 28, 2013.