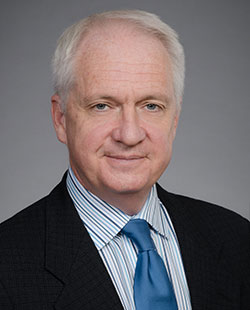 Job Title
Senior VP and Director, FHCRC Human Biology Division
Professor of Neurological Surgery
Director, Seattle Translational Tumor Research
Biography
Dr. Eric Holland earned a doctorate in biochemistry and molecular biology from the University of Chicago and a medical degree from Stanford University. He completed a neurosurgery residency at the University of California at Los Angeles School of Medicine and a fellowship at the National Cancer Institute in Bethesda, Maryland. His postdoctoral training included work with two Nobel laureates: Dr. Paul Berg, who pioneered recombinant DNA technology at Stanford, and Dr. Harold Varmus, director of the National Cancer Institute. 

Dr. Holland was recruited to Seattle from Memorial Sloan-Kettering Cancer Center in New York, where he directed the Brain Tumor Center and built one of the nation's most successful research and clinical programs. As a neurosurgeon and physician–scientist, he addresses the molecular basis of brain tumors to develop new, more precise approaches to their treatment. He specializes in glioblastoma, the most common brain cancer in adults, has developed mouse versions of brain cancer that mimic how tumors behave in humans, and has identified tumor cells that are resistant to standard therapies. These research findings have led to clinical trials for new drugs and drug combinations. At UW Medicine and the Fred Hutchinson Cancer Research Center, Dr. Holland and his colleagues will help usher in an era of precision treatment for cancer patients. 

Dr. Holland has received the American Brain Tumor Association Research Award, among other honors. He is a member of the Institute of Medicine of the National Academies and a member of the editorial boards of Virology, Molecular Cancer Research, the Journal of Molecular Medicine and Neoplasia.
Clinical Interest
Gliomas; metastatic brain tumors.
Research Interests
Glioma biology; mouse models of cancer; preclinical trials; developing novel therapy for primary brain tumors.
Education
Medical Education
Stanford University School of Medicine
University of Chicago
Internship
UCLA Medical Center
Residency
UCLA Medical Center
Fellowship
National Institutes of Health
Board Certification
American Board of Neurological Surgery - 2001