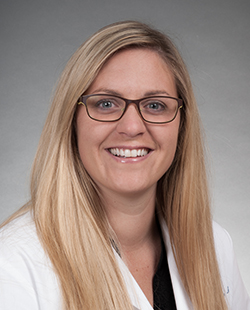 Biography
Courtney Weaver is an nurse practitioner at UWMC. 

She was born and raised in a suburb of Seattle, Washington. After completing high school, she attended the University of Washington where she completed her undergraduate degree, Bachelors of Science in Speech and Hearing Sciences, while competing as an intercollegiate rower. She then spent three years living in New York City, NY where she attended Columbia University and completed her Bachelors of Science in Nursing, and Masters of Science in Nursing to become a Nurse Practitioner. While attending Columbia University she worked as an RN on a unit specializing in Neurology/Neurosurgery care.

 In 2011 Courtney moved back to Seattle, where she accepted her position with the Neurological Surgery Service at UWMC.
Clinical Interest
Skull-based tumors, CNS metastatic disease, deep brain stimulation, and shuntology.
Personal Interests
Courtney loves to be outdoors, especially on the water, swimming and boating. She also enjoys traveling and hopes to travel South America, Africa, and Australia someday.
Education
Medical Education
Columbia University School of Nursing
Board Certification
American Nurses Credentialing Center - Family Nurse Practitioner, 2011