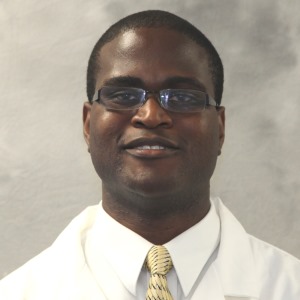 Biography
Chiba was born and raised in Benin, Nigeria. He moved to the United States for college in 2000 and completed his undergraduate studies at Wayne State College, Nebraska with a major in Biology. In 2004, he began medical school at the Indiana University School of Medicine, Indianapolis. Following his 3rd year, he received a Howard Hughes Medical Institute Research Fellowship to study the biology of glioblastoma-derived stem cells at the National Cancer Institute, National Institute of Health (NIH), Bethesda Maryland. He received continued support through the NIH to continue his work towards a PhD at Cambridge University in the United Kingdom. After graduating from Cambridge in 2011, he returned to Indiana for his final year of medical school and earned his MD in 2012. His research interests include understanding the pathogenesis of glioblastoma multiforme (GBM), the most common primary brain tumors in adults. In the Holland Lab, Chiba is exploring susceptibility and resistance mechanisms of various GBM molecular subtypes to immunotherapy including genetically engineered T cells and checkpoint inhibitors.  Chiba enjoys watching soccer, is an avid Chelsea FC fan and enjoys spending time with his family (wife and 2 boys) in his free time.
Select awards and honors:
2012: Goodman Scholarship for Excellence in Neurosurgery, Indiana University School of medicine, Indianapolis, IN
2012: 'Best Poster in Biochemistry' at annual graduate student research symposium. National Institutes of Health, Bethesda, MD
2008: National Institutes of Health / Oxford / Cambridge Research Scholarship, Bethesda, MD
2007: Howard Hughes Medical Institute Research Scholar (Cloister Program), Bethesda, MD
Clinical Interest
Neuro-surgical oncology and brain mapping techniques.
Education
Undergraduate Education
Wayne State College
Doctorate of Philosophy
Cambridge University
Medical Education
Indiana University
Publications
Ene C.I.,

Nerva J.D., Morton R.P., Barber J.K., Ko A.L., Silbergeld D.L. (2016). Safety and efficacy of carmustin (BCNU) wafers for metastatic brain tumors. Surgical Neurology International. PMID: 27217968.

Ene C.I.,

Nerva J.D., McGrath L., Flanagan M.E., Chamberlain M.C., Silbergeld D.L. (2016). Flow-Related Aneurysm within Glioblastoma: A case report and review of literature. World Neurosurgery. PMID: 26851739.

Ravanpay A., Ene C., Holland E.C. (2016). Molecular Genetics and the Development of targets for Gliomas. Book Chapter. Youmans Neurological Surgery 7th Edition

Ene C. I,

Xu D., Morton R.P., Emerson S., Levitt M. et. al. (2015). Safety and Efficacy of Preoperative Tumor Embolization of Cranial Hemangioblastomas. Neurosurgery. PMID 2635367.

Ene C.I.,

Morton R.P., Sekhar L., Ferreira M.J., Kim, L. J. (2015). Spontaneous Hemorrhage from Central Nervous System Hemagioblastomas. World Neurosurgery. PMID: 25727302.

Chowdhary M., Ene C. Silbergeld D. (2015). Treatment of Gliomas: How did we get here? Perspective. Surgical Neurology International. PMID: 25722937.

Ene C.,

Holland E.C. (2014). Personalized Medicine for Gliomas. Surgical Neurology International. Review. Surgical Neurology International. PMID: 25722938.

Ene C.,

Silbergeld D. (2014). Predicting survival of patients with brain metastasis. Perspective. World Neurosurgery. PMID: 25219584.

Ene C.,

Edwards L., Riddick G., Baysan M., Woolard K., Kotliarova S., Lai C., Belova G., Cam M., Walling J., Zhou M., Stevenson H., Kim H.S., Killian K., Veenstra T., Bailey R., Song H., Zhang W., Fine H. (2012) Histone demethylase Jumonji D3 (JMJD3) as a tumor suppressor by regulating p53 protein nuclear stabilization. PloS ONE. PMID: 23236496.

Ene C.I.,

Fine H.A. (2011). Many Tumors in One: A Daunting Therapeutic Prospect. Cancer Cell. PMID: 22172718