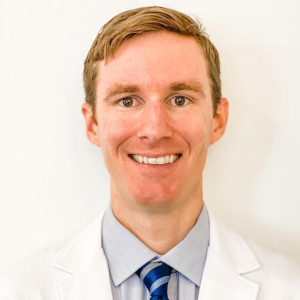 Biography
Dr. Miller is the current Cerebrovascular/Skull base fellow. He obtained his BS in Chemistry from the University of Virginia. He direct commissioned as a Second Lieutenant in the US Army upon enrolling in the Uniformed Services University of the Health Sciences (USUHS) in Bethesda, MD. He then completed his neurosurgical residency at Walter Reed National Military Medical Center. During his 7th year, he completed an enfolded endovascular fellowship at Georgetown University-MedStar Washington Hospital Center. He is currently a Major in the US Army.
Clinical Interest
Cerebrovascular (Open and Endovascular), Skull base tumors
Personal Interests
Running, biking, hiking, and spending time with my wife, 8-month-old son, and chocolate lab
Education
Medical Education
Uniformed Services University of the Health Sciences (USUHS)
Residency
Neurosurgery, Walter Reed National Military Medical Center 
Fellowship
Cerebrovascular Neurosurgery and Interventional Neuroradiology, Georgetown University-MedStar Washington Hospital Center
Publications
Meyer RM, Miller CA, Coughlin DJ, Rymarczuk G, Szuflita NS, Cirivello MJ. Glioblastoma recurrence, progression, and dissemination as a purely subdural gliosarcoma. J Neurooncol. 2017 Mar 13;1–2. PMID: 28290000
Coughlin DJ, Miller CA, Schuette AJ. Treatment of Moyamoya Disease and Unruptured Intracranial Aneurysm in Floating-Harbor Syndrome– A case report, World Neurosurgery. 2017 PMID: 28549641

Miller CA

, Mai J, Alqahtani S, Liu A, Armonda R. Right Pterional Craniotomy for Posterior Communicating Artery Aneurysm Remnant after Coiling. 2017 

CNS Nexus

Miller CA

, Boulter, JH, Coughlin DJ, Rosner, MK, Neal, CJ, Dirks MS. Return to Active Duty Rates after Anterior Cervical Spine Surgery in Military Pilots. JNS Focus 2018 Dec PMID:30544309

Neal CJ, Mandell K, Tasikas E, Delaney JJ, Miller CA, Schlaff C, Rosner MK. Cost effectiveness of adult spinal deformity surgery in a military healthcare system. JNS Focus 2018 Dec PMID: 30544310

Miller CA

, Delaney JJ, Schuette AJ. 

Dual Invasive Fungal Infection Presenting with Cervical Myelopathy.

 World Neurosurg

. 

2019 Nov;131:227-229.PMID: 31437516.
Boulter JH, Curry BP, Szuflita NS, Miller CA, Spinelli J, Delaney JJ, Neal CJ, Spevak CJ, Bell RS. 

Protocolization of Post-Transforaminal Lumbar Interbody Fusion Pain Control with Elimination of Benzodiazepines and Long-Acting Opioids. 

Neurosurgery. 2019 Jul 5; PMID: 31274165.

Dunford JM, Miller C. 

Orbital Compartment Syndrome without Evidence of Orbital Mass or Ocular Compression After Pterional Craniotomy for Removal of Meningioma of the Frontal Lobe: A Case Report and Literature Review.

 World Neurosurg

. 

2020 Jul;139:588-591. PMID: 32344145
Szuflita N, Kirkham A, Gerald T, Delaney J, Miller C, Curry B, Cartwright L, Hawksworth J, Davidson L. 

Native Ureter Ventriculo-Ureteral Shunt Placement for Management of Refractory Hydrocephalus in a Child With a History of Renal Transplant: Case Report and Technical Note.

 Urology

.

2020 Jul 31;. PMID: 32745486.
Coughlin DJ, Boulter JH, Miller CA, Curry BP, Glaser J, Fernandez N, Bell RS, Schuette AJ. 

An Endovascular Surgery Experience in Far-Forward Military Healthcare-A Case Series.

 Mil Med

. 

2020 Aug 19;. PMID: 32812042.
Ikeda DS, Miller CA. 

Artery of Percheron pseudoaneurysm.

 J Clin Neurosci

.

2020 Nov;81:485-486. PMID: 32951951.
Ikeda DS, Dryden JR, Van Gent JM, Benzer E, Praske SP, Ravindra VM, Miller CA, Curry BP, Bell RS. Transpacific Aeromedical Evacuation for a Ruptured Brain Arteriovenous Malformation During the COVID-19 Pandemic. Mil Med. 2020 Nov 30 PMID: 33252667.
Daniel Satoshi Ikeda, Charles A. Miller, Vijay M. Ravindra. Fusion for subaxial bow hunter's syndrome results in remote osseous remodeling of the hyperostotic growth responsible for vertebral artery compression. SNI 17-Mar-2021;12:104 DOI:

10.25259/SNI_762_2020

Carpenter A, Rock M, Dowlati E, Miller C, Mai JC, Liu AH, Armonda RA, Felbaum DR. Middle meningeal artery embolization with subdural evacuating port system for primary management of chronic subdural hematomas. Neurosurg Rev. 2021 Apr 24. doi: 10.1007/s10143-021-01553-x.PMID: 33893872.