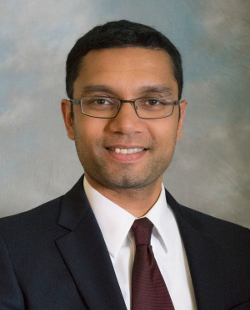 Job Title
Assistant Professor of Neurological Surgery
Biography
Dr. Patel is a UW assistant professor of Neurosurgery who specializes in the treatment of brain tumors. Specifically, he is an expert in the treatment of malignant brain tumors, skull base tumors, vascular lesions, and cranial neuropathies through open and endoscopic approaches.

Dr. Patel earned his bachelor's degree from Yale University and his medical degree from Harvard Medical School. He went on to do internship and residency in Neurosurgery at the Massachusetts General Hospital in Boston. He came to the UW for advanced training in skull base and cerebrovascular surgery.

Dr. Patel is a member of the American Association of Neurological Surgeons, the Congress of Neurological Surgeons, and the North American Skull Base Society. He is also a recipient of the Burroughs Wellcome Foundation Career Award in Medical Sciences for his research efforts on glioblastoma.
Clinical Interest
Treatment of tumors of the skull base, brain and spinal cord, including malignant brain tumors (low grade glioma, glioblastoma, metastatic disease); meningiomas; schwannomas (acoustic neuromas/vestibular schwannomas, trigeminal, glossopharyngeal, hypoglossal, spinal); pituitary tumors; craniopharyngiomas; neurofibromatosis type 1 and 2 (acoustic neuromas, schwannomas, meningiomas); chordomas and chondrosarcomas; hemangioblastomas; cranial nerve syndromes (trigeminal neuralgia, hemifacial spasm); hemangioblastomas; sinonasal tumors of the skull base; and cysts (epidermoid, dermoid, Rathke's cleft).
Research Interests
Using detailed profiling of patient tumors to understand how tumor heterogeneity leads to treatment resistance in glioblastoma.
Personal Interests
Scuba diving, golfing, hiking, camping.
Education
Medical Education
Harvard Medical School
Internship
Massachusetts General Hospital
Residency
Massachusetts General Hospital
Fellowship
University of Washington
Publications
GOOGLE SCHOLARS PROFILE
https://scholar.google.com/citations?hl=en&user=QYMP2d4AAAAJ
BOOK CHAPTERS
Patel AP. High Grade Gliomas. Principles of Neurological Surgery, 4th edition. 580-585.
Patel AP, Brito da Silva H, Sekhar LN. Revascularization of the Brainstem. Surgery of the Brainstem. 2019, Chapter 31.
Patel AP, Shetty R, Sekhar LN. Planum/Tuberculum Sella Meningiomas: Open Approaches. Endoscopic and Keyhole Cranial Surgery. 2019, Chapter 17.2. 224-32.
Patel AP, Amin-Hanjani S, Ogilvy CS. Surgical management of cavernous malformations. Schmidek and Sweet's Operative Neurosurgical Techniques, 6th edition. Chapter 81.