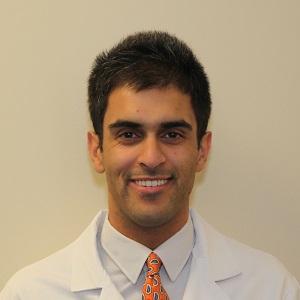 Biography
Abdullah was born in Birmingham, England but completed his undergraduate training in economics, health policy, and biological sciences at the University of New Mexico. He subsequently spent time at the World Health Organization in Geneva, Switzerland as a Duke University Program of Global Policy and Governance global health fellow prior to attending the Stanford University School of Medicine. During medical school, his research interests included particular focus on stem cell biology and tumor immunotherapy for glioblastoma and group III medulloblastoma within the pediatric neurosurgery laboratory of Dr. Samuel Cheshier in addition to separate interests within drug development for lymphedema, global surgery, and domestic health policy culminating in time as a White House intern within the Office of Presidential Personnel and visiting pediatric neurosurgery scholar at the CURE Children's Hospital of Uganda. 
Awards and Honors
2019 Forbes Magazine 30 Under 30 Healthcare 
2017 Council of State Neurosurgical Societies Socioeconomic Fellowship 
2016 White House Intern, Office of Presidential Personnel, Executive Office of the President of the United States 
2015 American Association of Neurological Surgeons Young Neurosurgeons Abstract Award 
2012 National Quality Scholar, American College of Medical Quality 
2012 American Brain Tumor Association Medical Student Fellowship 
2010 University of New Mexico Lena M. Clauve Outstanding Senior Award 
2009 Congressional Health Policy Intern, Office of Senator Jeff Bingaman (D-NM), United States Senate 
2009 Honorable Mention, Barry M. Goldwater Scholarship 
2009 Finalist, Harry S. Truman Scholarship 
2009 Finalist, George C. Marshall Scholarship 
2009 Finalist, Cecil B. Rhodes Scholarship 
Clinical Interest
Glioma immunotherapy, health policy, biodesign, global surgery
Personal Interests
Stracciatella gelato, FC Barcelona, and lackluster performances on the golf course.
Education
Undergraduate Education 
University of New Mexico 
Graduate Education 
Global Health Fellows Program, Duke University Sanford School of Public Policy 
Medical Education 
Stanford University School of Medicine 
Publications
Gibson AW, Feroze AH, Greil ME, McGrath M, Sivakanthan S, White-Dzuro G, Williams JR, Young CC, Hofstetter CP. 2021. Cellular allograft for stand-alone multi-level anterior cervical discectomy and fusion. Neurosurgical Focus.
McGrath M, Feroze AH, Nistal D, Robinson E, Saigal R. 2021. Surgeon cost awareness decreases recombinant human bone morphogenetic protein-2 dosage and health system costs for spinal arthrodesis without increasing complication rates. Neurosurgical Focus.
Wu SJ, Furlan SN, Mihalas AB, Kaya-Okur H, Feroze AH, Emerson SN, Zheng Y,  Carson K, Cimino PJ, Keene CD, Holland EC, Sarthy JF, Gottardo R, Ahmad K, Henikoff S, Patel AP. 2021. Single-cell analysis of chromatin silencing programs in developmental and tumor progression. Nature Biotechnology.
Nuechterlein N, Li B, Feroze A, Holland EC, Shapiro L, Haynor D, Fink J, Cimino PJ. 2021. Radiogenomic modeling predicts survival-associated prognostic groups in glioblastoma. Neuro-Oncology Advances.
Abecassis IJ, Zeeshan Q, Feroze AH, Ene C, Vellimana A, Sekhar LN. 2021. Subtemporal, transapical, and transcavernous approach to clip low-lying basilar tip aneurysm: 2-dimensional operative video. Operative Neurosurgery.
Cruz MJ, Nieblas-Bedolla E, Young CC, Feroze AH, Williams JR, Ellenbogen RG, Levitt MR. 2021. Medicolegal progress and innovation in telemedicine in the age of Covid-19: a primer for neurosurgeons. Neurosurgery.
Williams JR, Meyer RM, Ricard J, Sen R, Young CC, Feroze AH, Greil ME, Barros G, Durfy S, Hanak B, Morton RP, Temkin NR, Barber JK, MacDonald CL, Chesnut RM. 2021. Re-examining decompressive craniectomy medial margin distance from midline as a metric for calculating the risk of post-traumatic hydrocephalus.  Journal of Clinical Neuroscience.
Abecassis IJ, Young CC, Caldwell D, Feroze AH, Williams JR, Meyer RM, Kellogg RT, Bonow RH, Chesnut RM. 2020. The Kempe incision for decompressive craniectomy, craniotomy, and cranioplasty in traumatic brain injury and stroke. Neurosurgical Focus.

Feroze AH

, McGrath M, Williams JR, Young CC, Ene CI, Buckley RT, Ojemann JG, Hauptman JS. 2020. Laser interstitial thermal therapy for pediatric atypical teratoid/rhabdoid tumor. Neurosurgical Focus.
Young CC, Williams JR, Feroze AH, McGrath M, Ravanpay AC, Ellenbogen RG, Ojemann JG, Hauptman JS. 2020. Pediatric functional hemispherectomy: operative techniques and complication avoidance. Neurosurgical Focus.
Williams JR, Young CC, Vitanza N, McGrath M, Feroze A, Browd SR, Hauptman JS. 2020. Progress in diffuse intrinsic pontine glioma: integrating stereotactic biopsy in the standard of care. Neurosurgical Focus.
Barros G, Feroze AH, Sen RD, Kelly C, Barber J, Hallam D, Ghodke B, Osbun J, Kim LJ, Levitt M. 2019. Predictors of preoperative endovascular embolization of meningiomas: subanalysis of anatomic location and arterial supply. Journal of NeuroInterventional Surgery.
Chu JK, Feroze AH, Young CC, Williams J, Collins K, McGrath L, Browd SR. 2018. Variation in hospital charges in patients with external ventricular drains: comparison between intensive care and surgical floor. Journal of Neurosurgery: Pediatrics. 
Kuo CH, Feroze AH, Poliachik S, Novotny EJ, Hauptman J, Ojemann JG. 2018. Laser ablation therapy for pediatric patients with intracranial lesions in eloquent areas. World Neurosurgery.
Choudhri O, Dobre MC, Feroze A, Sharma N, Do HM. 2018. Spontaneous regression of an idiopathic arteriovenous fistula of the right vertebral artery. Neuroradiology.
Ajlan AM, Abdulqader SB, Achrol AS, Aljamaan Y, Feroze AH, Katnzelson L, Harsh GR. 2018. Diabetes insipidus following endoscopic transsphenoidal surgery for pituitary adenoma. Journal of Neurological Surgery Skull Base.
Tian W, Rockson SG, Jiang X, Kim J, Begaye A, Shuffle EM, Tu AB, Cribb M, Nepiyuschchikh Z, Feroze AH, Zamanian RT, Dhillon GS, Voelkel NF, Peters-Golden M, Kitajewski J, Dixon JB, Nicholls MR. 2017. Leukotriene B4 antagonism ameliorates experimental lymphedema. Science Translational Medicine.
Abecassis IJ, Nerva JD, Feroze A, Barber J, Ghodke BV, Kim LJ, Sekhar LN. 2017. Multimodality management of Spetzler-Martin grade 3 brain arteriovenous malformations. World Neurosurgery.
Khan N, Lober RM, Ostergren L, Navarro R, Feroze A, Steinberg GK. 2017. Measuring cerebral blood flow in moyamoya angiopathy by quantitative magnetic resonance angiography noninvasive optimal vessel analysis. Neurosurgery.
Ajlan A, Achrol AS, Albakr A, Feroze AH, Westbroek E, Hwang P, Harsh GR. 2017. Cavernous sinus involvement by pituitary adenomas: clinical implications and outcomes of endoscopic endonasal resection. Journal of Neurological Surgery Skull Base.
Gholamin S, Mitra SS, Feroze AH, Liu J, Zhang M, Kahn SA, Esparza R, Richard C, Ramaswamy V, Remke M, Volkmer AK, Willingham S, Ponnuswami A, McCarthy A, Storm T, Schubert S, Chu P, Raabe E, Harsh G, Taylor MD, Monje M, Cho YJ, Majeti R, Volkmer JP, Grant G, Steinberg GK, Vogel H, Edwards M, Weissman IL, Cheshier S. 2017. Disrupting the CD47-SIRPa anti-phagocytic axis by a humanized anti-CD47 antibody is an efficacious treatments modality for malignant pediatric brain tumors. Science Translational Medicine.
Liu TT, Achrol AS, Mitchell LA, Rodriguez SA, Feroze A, Iv M, Kim C, Chaudhary N, Gevaert O, Stuart JM, Harsh GR IV, Chang SD, Rubin DL. 2016. Magnetic resonance perfusion image features uncover an angiogenic subgroup of glioblastoma patients with poor survival and better response to anti-angiogenic treatment. Neuro-Oncology.
Choudhri O, Schoen M, Mantha A, Feroze A, Ali R, Lawton MT, Do HM. 2016. Increased risk for complications following diagnostic cerebral angiography in older patients: Trends from the Nationwide Inpatient Sample (1999-2009). Journal of Clinical Neuroscience.
Gupta M, Choudhri OA, Feroze AH, Grant G, Steinberg GK. 2016. Management of moyamoya syndrome in patients with Noonan syndrome. Journal of Clinical Neuroscience.
Su YS, Ali R, Feroze AH, Li G, Lawton MT, Choudhri O. 2016. Endovascular therapies for malignant gliomas: Challenges and the future. Journal of Clinical Neuroscience.
Liu TT, Achrol AS, Mitchell LA, Du WA, Loya JJ, Rodriguez S, Feroze A, Westbroek EM, Yeom KW, Stuart JM, Chang S, Harsh G, Rubin DL. 2016. Computational identification of anatomical tumor location associated with survival in two large cohorts of human primary glioblastomas. American Journal of Neuroradiology.
Ali R, Connolly ID, Feroze AH, Choudhri OA, Grant GA. 2015. Epilepsy: A disruptive force in history. World Neurosurgery.
Itakura H, Achrol AS, Mitchell LA, Loya JJ, Liu T, Westbroek EM, Feroze AH, Rodriguez S, Echegaray S, Azad TD, Yeom KW, Napel S, Rubin D, Chang SD, Harsh GR IV, Gevaert O. 2015. Magnetic resonance imaging features identify glioblastoma subtypes with distinct molecular pathway activities and therapeutic targets. Science Translational Medicine.

Feroze AH*

, Mitra SS*, Gholamin S*, Richard C, Esparza R, Zhang M, Azad TD, Alrfaei TD, Kahn SA, Guzman R, Creasey GH, Plant GW, Weissman IL, Edwards MSB, Cheshier S. 2015. Neural placode tissue derived from myelomeningocele repair serves as a viable source of oligodendrocyte precursor cells. Neurosurgery.
Walmsley GG, McArdle A, Momeni A, Tevlin R, Atashroo D, Hu MS, Feroze AH, Lorenz PH, Longaker MT, Wan D. 2014. Nanotechnology in bone tissue engineering. Nanomedicine: Nanotechnology, Biology, and Medicine.
Esparza R, Azad TD, Feroze AH, Mitra SS, Cheshier S. 2014. Glioblastoma stem cells and stem cell-targeting immunotherapy. Journal of Neuro-Oncology.
Purger D, Choudhri O, Feroze A, Lee L, Lopez J, Dodd R. 2014. Femoral artery ischemia during a neuro-interventional procedure detected by somatosensory evoked potential and motor evoked potential monitoring. Interventional Neuroradiology.

Feroze AH, 

Walmsley GG. 2014. Assessing the utility of intraoperative educational timeouts in the promotion of medical student knowledge. American Journal of Medical Quality.
Choudhri O, Gupta M, Feroze AH, Heit JJ, Do HM. 2014. Endovascular management of external ventricular drain-associated cerebrovascular injuries. Surgical Neurology International.

Feroze AH

, Kushkuley J, Choudhri O, Heit JJ, Steinberg GK, Do H. 2014. Development of arteriovenous fistula following revascularization bypass for moyamoya disease. Operative Neurosurgery.

Feroze AH*

, Walmsley GG*, Choudhri O, Lorenz HP, Grant GA, Edwards MSB. 2014. Evolution of cranioplasty techniques in neurosurgery: historical review, pediatric considerations, and current trends. Journal of Neurosurgery.
Kushkuley J, Feroze AH, Choudhri O. 2014. Diffuse intracranial and extracranial vascular involvement in reversible cerebral vasoconstriction syndrome. Clinical Neuroradiology.
Nitta R, Gholamin S, Feroze AH, Agarwal M, Mitra SS, Cheshier S, Li G. 2014. Casein kinase 2α regulates glioblastoma brain tumor initiating cell growth through the β-catenin pathway. Oncogene.

Feroze AH

, Mantha A, Choudhri O. 2014. Deep cerebral venous thrombosis during pregnancy. British Journal of Neurosurgery.
Choudhri O, Feroze AH, Lad EM, Kim JW, Plowey E, Karamchandani J, Chang SD. 2014. Co-occurrence of a cerebral cavernous malformation and an orbital cavernous hemangioma in a patient with seizures and visual symptoms: rare crossroads for vascular malformations. Surgical Neurology International 5(S4): S148-54.
Choudhri O*, Feroze A*, Nathan J, Cheshier S, Guzman R. 2014. Ventricular endoscopy in the pediatric population: review of indications. Child's Nervous System 30(10): 1625-43.
Choudhri O, Heit JJ, Feroze AH, Chang SD, Dodd RL, Steinberg GK. 2014. Persistent trigeminal artery supply to an intrinsic trigeminal nerve arteriovenous malformation: a rare cause of trigeminal neuralgia. Journal of Clinical Neuroscience.
Choudhri O, Feroze A, Marks M, Do H. 2014. Endovascular management strategy for cerebral venous sinus thrombosis. Neurosurgical Focus 37(1 Suppl): 1.
Choudhri O, Feroze AH, Hwang P, Vogel H, Harsh G IV. 2014. Endoscopic resection of a giant intradural retroclival ecchordosis physaliphora: surgical technique and literature review. World Neurosurgery S1878-8750(14).
Choudhri O, Mindea S, Feroze A, Soudry E, Chang S, Nayak J. 2014. Experience with intraoperative navigation and imaging during an endoscopic transnasal spinal approach to the foramen magnum and odontoid. Neurosurgical Focus 36(3): E4.
Gholamin S*, Feroze AH*, Mitra SS, Kahn SA, Cheshier SH. 2013. Establishment of stereotactic orthotopic brain tumor xenografts in mice: technical report. Cureus 5(12): e150.
Lee KS, Wu Z, Mitra SS, Feroze AH, Cheshier SH, Lu B. 2013. Roles of PINK1, mTORC2, and mitochondria in preserving brain tumor-forming stem cells in a noncanonical Notch signaling pathway. Genes & Development 27(24): 2442-2447.
Jiang B, Veeravagu A, Feroze AH, Lee M, Harsh GR, Soltys GG, Gibbs IC, Adler JR, Chang SD. 2013. CyberKnife radiosurgery for the management of skull base and spinal chondrosarcomas. Journal of Neuro-Oncology 114(2): 209-218.
Kim YW, Liu, TJ, Koul D, Tiao N, Feroze AH, Yang J, Powis G, Yung WK. 2011. Identification of novel synergistic targets for rational drug combinations with PI3 kinase inhibitors using siRNA synthetic lethality screening against GBM. Neuro-Oncology 13(4): 367-75.